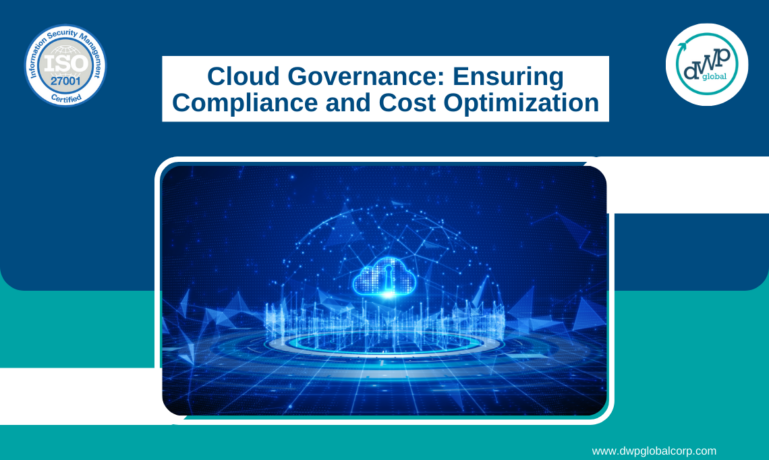 Cloud computing has transformed the IT landscape, offering unprecedented scalability, flexibility, and efficiency. However, harnessing the power of cloud resources requires a robust framework to govern and manage these environments effectively.
Cloud governance
encompasses a range of strategies, policies, and best practices that ensure compliance with regulations, optimize costs, and maintain security across cloud environments. This article delves into cloud governance best practices and the importance of compliance and cost optimization to achieve these goals.
Cloud Governance: A Holistic Approach
Cloud governance refers to policies, processes, and practices designed to manage and optimize cloud-native services and resource usage while ensuring compliance with regulatory requirements and security measures. It encompasses many factors, including identity and access management, data breaches, and risk management.
Innovative Cloud
and DevOps Services empower businesses to streamline cloud operations and accelerate growth.
Ensuring Compliance In Cloud Governance
Here are a few key components of ensuring compliance and security in cloud data governance:
Regulatory Requirements: Cloud governance must align with relevant regulatory requirements, such as GDPR, HIPAA, and industry-specific standards. Compliance protects sensitive data management and prevents legal and financial repercussions.
Data Privacy: Data privacy is a critical aspect of compliance. Organizations must adopt measures to protect personal and sensitive data, ensuring that it is collected, stored, and processed by applicable laws.
Continuous Monitoring: Monitoring of cloud usage, resource allocation, and cloud security are crucial for compliance. It helps identify and address any deviations from established cloud governance policies and regulations.
Service Level Agreements (SLAs): SLAs define cloud service providers' and users' expectations and responsibilities. Aligning service-level agreements with business objectives and compliance requirements ensures consistent service delivery and data protection.
Azure DevOps is a set of development tools and services provided by Microsoft as part of the Azure cloud platform.
Azure DevOps Solutions
offers a comprehensive suite of tools and services that enable seamless collaboration, continuous integration, and efficient delivery of software projects.
Cloud Cost Optimization Approach
Cost optimization in a cloud environment involves managing and minimizing the expenses of utilizing cloud services and resources. The aim is to achieve the highest value from cloud investments while avoiding unnecessary or wasteful spending. Here's a guide on how to manage costs in the cloud governance policies:
Choose the Right Cloud Services: Select cloud providers and their services that best match your requirements. Avoid overprovisioning by choosing the appropriate service tier based on your workload's needs.
Resource Analysis: Start by assessing your cloud environment to understand the usage patterns, resource allocation, and overall cloud infrastructure. Identify underutilized, overprovisioned, or idle resources that can be optimized or eliminated.
Right-size Resource: Regularly analyze your resource usage and downscale or upscale instances as needed. Optimize resource allocation by choosing the right instance types and sizes based on workload requirements. Scaling resources up or down according to demand ensures efficient resource utilization and cost savings.
Reserved Instances and Savings Plans: Take advantage of reserved instances or savings plans the cloud service providers offer for predictable workloads. These offer significant discounts in exchange for upfront commitment. These options enable you to make a commitment to utilizing designated resources for an extended duration, leading to significant cost reductions when contrasted with on-demand pricing.
Auto-scaling: Implement auto-scaling to adjust resources based on workload fluctuations dynamically. It prevents overprovisioning during periods of low demand and ensures optimal performance during peak cloud usage. Automatically add or remove resources based on demand, ensuring you only pay for what you use.
Spot Instances and Preemptible VMs: Utilize spot instances at significantly reduced prices compared to on-demand instances. However, they come with the caveat that cloud providers can terminate them within short notice if demand increases. Use spot instances or preemptible VMs for non-critical, fault-tolerant workloads.
Serverless Computing: Leverage serverless architectures for specific workloads. With serverless, you pay only for the actual usage, eliminating the need to provision and manage resources continuously. In a serverless environment, developers do not need to worry about provisioning, scaling, or managing servers.
Cost Tracking and Monitoring: Implement robust cost tracking and monitoring tools to monitor cloud usage and gain visibility into your spending patterns. Set up alerts to be notified when costs exceed predefined thresholds.
Cloud Governance: Integrate expenditure optimization practices into your overall cloud governance strategy. Establish guidelines, policies, and approval governance processes to ensure resources are used efficiently and cost-effectively. Operational efficiency becomes especially important as businesses adopt cloud services to run their applications and manage their data.
By adopting comprehensive cloud resources, organizations can make informed decisions, maximize their cloud investments' value, balance performance scalability, and be cost-effective.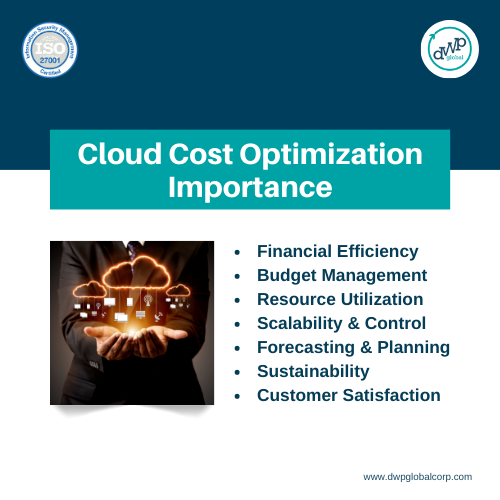 Importance Of Cost Optimization In The Cloud Governance Framework
Cost optimization is crucial in the cloud governance framework for several compelling reasons:
Financial Efficiency: Cloud resources that come with associated costs and inefficient usage can lead to significant overspending. Cost optimization ensures you get the most value from your cloud operations by using resources efficiently and eliminating waste.
Budget Management: Cloud costs can quickly escalate if not managed effectively. Cost optimization helps you stay within your budget limits and prevents unexpected spikes in expenses that can disrupt financial planning.
Resource Utilization: Cloud environments offer scalability, which can lead to overprovisioning. By optimizing asset utilization, you avoid paying for unused or underutilized resources, resulting in substantial cost savings.
Scalability with Control: Cloud scalability is a significant benefit, but it can lead to uncontrolled costs without proper data management. Cost optimization empowers you to scale resources as needed while controlling expenses.
Forecasting and Planning: With optimized costs, you can accurately forecast and plan future expenses. It helps align cloud management with business growth and avoids sudden financial surprises.
Sustainability: Effective cost optimization contributes to sustainability by minimizing resource waste. It benefits your bottom line and aligns with cloud environment goals.
Customer Satisfaction: Efficiently managing cloud spending allows organizations to maintain the quality of their cloud services while avoiding potential downtime or service interruptions due to budget constraints.
Cost optimization in cloud services ensures that you are using resources wisely, maximizing the value of your investments, and maintaining a healthy balance between innovation, performance, and financial prudence.
Cloud Governance And Cost Optimization
Here are some best practices to consider when establishing and implementing cloud governance:
Cloud Governance Strategy: Develop a comprehensive cloud strategy that aligns with business goals, regulatory requirements, and best practices.
Business Continuity: Incorporate disaster recovery and business continuity plans into cloud governance to ensure data availability and service continuity during disruptions.
Cloud Management: Implement robust cloud-native services management practices, including performance monitor costs, automated scaling, and efficient resource allocation.
Cloud Adoption: Plan for a smooth cloud adoption process by involving key stakeholders, defining clear objectives, and assessing the impact on existing cloud governance operations.
Cloud governance is a multifaceted approach pivotal in ensuring compliance and optimizing costs within cloud environments. By implementing effective cloud governance frameworks, policies, and strategies, organizations can harness the benefits of
cloud computing
while mitigating risks, safeguarding data, and maximizing return on investment. As cloud technologies evolve, a proactive approach to cloud governance will be essential for maintaining a competitive edge in the digital landscape.