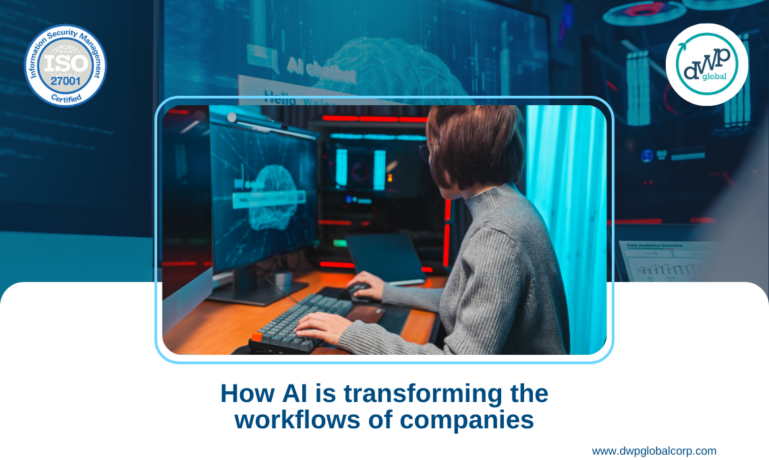 Artificial Intelligence (AI) is a key component of the digital transformation revolution impacting businesses of all sizes. The significance of AI to the global economy is on the rise. AI services provide pre-built intelligence for your apps and workflows. One can easily and efficiently integrate AI services into your apps to handle common use cases such as personalized recommendations, contact center updates, increased customer engagement, customer satisfaction, fraud detection, and improved safety and security.
Artificial Intelligence
workflow automation is performed in different stages, from defining the process, identifying data sources, choosing the right technology, training the AI model accordingly, and finally implementing the process and testing the results.
How AI Is Transforming the Workflow Of Businesses
Implementing Artificial Intelligence can significantly transform various aspects of a business to attain a competitive edge. However, most companies may not have the resources to form an in-house team to develop and implement AI solutions.
Integrating and orchestrating AI involves seamlessly integration various AI tools and software into your current systems. Incorporating AI in workflow automation provides various advantages, such as enhanced efficiency, better decision-making, improved customer experience, and cost savings. Regardless of business size, AI is valuable and enables employees to devote time to strategic tasks by automating repetitive ones. It's important to note that AI is meant to complement human workers, not replace them.
Benefits Of Integrating Workflow Automation
The potential of AI in managing enterprise workflow is bright. With advancements in AI technologies, like reinforcement, machine learning algorithms, and explainable AI, there is a possibility of driving more innovation and adoption in this area. AI is expected to enable organizations to have more streamlined processes and more intelligent, adaptable, and self-directed workflows.
Mentioned below are the benefits of transforming AI in the workflow of businesses.
1. Improved data processing and analysis
Thanks to AI technology, organizations can efficiently process and analyze large volumes of data in real time. With the help of AI-powered algorithms, businesses can extract valuable insights from structured data patterns and unstructured data, allowing them to make informed decisions based on data, which is essential for streamlining their business operations and identifying improvement areas.
AI consulting services companies assist organizations by enabling businesses to make
data-driven
decisions.
2. Natural language processing and chatbots
With the help of AI-powered natural language processing (NLP) technology, machines can now comprehend and interpret human language, paving the way for the development of chatbots, which can engage in conversations with users. Chatbots are becoming more popular in enterprise workflow automation as they can efficiently handle customer inquiries, answer customer queries, assist with business processes, and simplify communication procedures.
3. Robotic process automation
Using software robots, organizations can use Robotic Process Automation (RPA) technology to automate repetitive tasks based on rules. These software robots can imitate human interactions with digital systems, making it possible to automate repetitive tasks across different applications and systems. When AI is added to RPA, it enhances the potential for enterprise workflow automation by automating routine tasks and integrating cognitive abilities and human intelligence into the automation process.
4. Intelligent process automation
Intelligent process automation is made possible by AI, a machine learning algorithm that allows machines to learn and make decisions based on predetermined rules and patterns. By analyzing historical data and automating repetitive tasks, AI helps save time, reduce errors, streamline processes, and improve workflow efficiency. Errors and enhances overall workflow efficiency.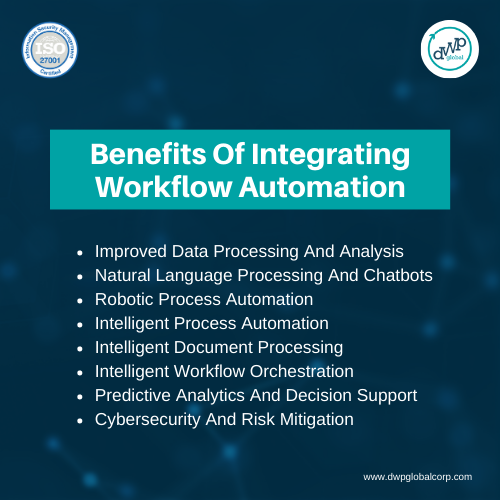 5. Intelligent document processing
In the past, processing documents was a task that was time-consuming and required a lot of time and effort. But now, intelligent document processing solutions powered by AI are changing things. These solutions use optical character recognition (OCR) and natural language processing to extract information from documents, automate manual data entry, and streamline document management workflows.
6. Intelligent workflow orchestration
Organizations can enhance their workflow design, automation, and optimization using intelligent workflow orchestration systems powered by AI. These
intelligent automation
systems can allocate tasks, assign resources, and adapt to changes in conditions, resulting in optimal workflow performance. By incorporating AI into workflow and implementation process orchestration, businesses can attain improved agility, scalability, and efficiency in their operations.
7. Predictive analytics and decision support
The use of AI algorithms can be highly beneficial in enterprise workflow automation. These algorithms analyze past data, identify patterns, and predict future outcomes. By utilizing AI-powered predictive models for complex workflows, organizations can optimize workflows, anticipate potential bottlenecks, and make informed decisions to drive and streamline business processes and operational excellence.
8. Cybersecurity and risk mitigation
AI has become a valuable resource in managing cybersecurity and reducing risks. AI algorithms can identify abnormalities and potential threats and take preventive measures to protect sensitive data and mitigate risks. Businesses can improve security measures and safeguard confidential data and systems from cyber threats by integrating AI into their workflow automation.
Businesses can benefit from AI technologies, such as cost-cutting, better data analysis, informed decision-making, and improved efficiency, security, and industry-specific advantages. Despite challenges, AI workflow automation software can enhance processes and increase revenue. Key implementation factors include selecting tasks, choosing technology, and testing and monitoring models. Adopting AI technology can improve efficiency, save costs, enhance security, and explore new growth opportunities. By analyzing customer data, AI algorithms can provide personalized recommendations and targeted marketing campaigns.
AI Automation Into The Workflow: A Continuous Process
AI can optimize workflows by continuously automating tasks, learning and analyzing feedback, and monitoring performance. This results in more automated workflows and businesses adapting to changing requirements and staying ahead of the competition.
The use of AI-powered technology is changing the way businesses handle administrative tasks and their workflows. Utilizing AI workflow automation is changing the game for businesses by streamlining their operations and making them more efficient and productive. With the help of automation, machine learning, predictive analytics, workflow automation, and orchestration, companies can stay ahead of the competition and explore new avenues for growth.
Artificial Intelligence Solution Provider best helps organizations align their businesses to automate data entry and align customer data with AI optimization.
How DWP Global Corp Assists Businesses In Workflow Automation
DWP Global Corp provides expertise and cutting-edge technology to help organizations implement reliable AI. We focus on data, cloud, and AI to get valuable insights that enable quicker and more intelligent decision-making. We integrate data and AI into all our solutions to benefit clients'
digital transformation
initiatives.