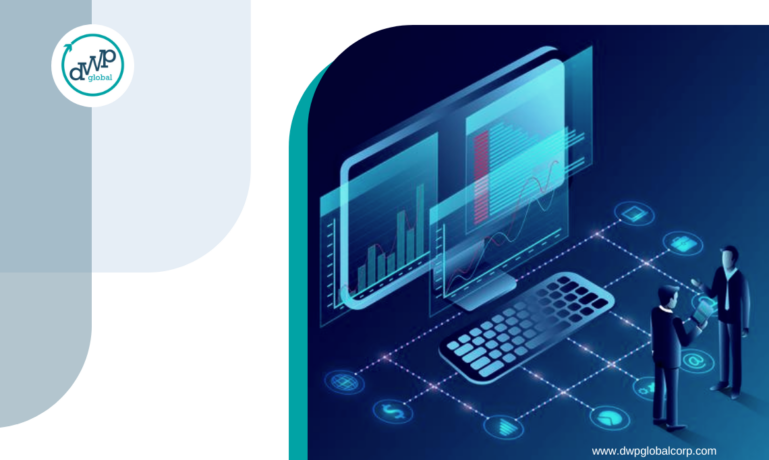 We all know how technology has leaped over the past three decades. But if you are new to this industry-specific challenge, you are just at the tip of the iceberg.
Cloud service providers allow software and services to run across various servers instead of executing and processing them on local subnets. With this innovation, companies have started to store data online by improving their infrastructure, upgrading storage capacity, and focusing on data management strategies and other analytics and data science tools.
While these topics may seem too technical for people who are not science specific, trust me, all these data science, integration, and reliability are equally important parts of your marketing strategies.
What Is Data Analytics As A Service(DAaaS)?
DAaaS, or Data Analytics as a Service, is a business analytics solution that enables organizations to leverage advanced data analytics tools and expertise without substantial investments in infrastructure or data scientists. This service model allows organizations to outsource their data analytics requirements to third-party providers with the necessary resources and expertise to deliver new insights.
To provide a clear understanding, let's look at how DAaaS platforms provide value in different sectors;
1. Retail Industry: A retail company wants to optimize its inventory management and improve sales forecasting. Instead of building an in-house data analytics team and investing in costly infrastructure, they opt for DAaaS platforms and analytics services.
The big data analytics service provider collects and analyzes the company's sales data, historical trends, and external factors such as weather data. The
data analytics engine
delivers accurate sales forecasts and recommends optimal inventory levels by applying advanced analytics techniques and machine learning algorithms.
The retail company can make data-driven decisions, reduce stockouts, minimize excess inventory, and enhance profitability.
2. Healthcare Sector: A healthcare organization aims to enhance patient outcomes and reduce hospital readmissions by leveraging DAaaS platforms, the organization partners with a service provider specializing in healthcare analytics.
The data integration services integrate various data sources, including electronic health records, medical claims data, and patient surveys. They analyze the data to identify readmission patterns, risk factors, and predictive indicators to improve the data quality.
The healthcare organization receives actionable insights, enabling them to implement targeted interventions, personalize patient care plans, and proactively address potential issues. As a result, they significantly reduce readmission rates and improve overall patient satisfaction.
3. Financial Services: A financial institution wants to combat fraud and protect its customers' financial assets. They opt for big data analytics solutions instead of building a fraud detection infrastructure.
The document management solutions leverage machine learning algorithms and real-time data points to monitor customer transactions, detect suspicious patterns, and identify potentially fraudulent activities. The data services can accurately identify bizarre transactions by applying business intelligence techniques and promptly alert the financial institution.
This proactive approach by data engineers allows the institution to take immediate action, mitigate risks, and safeguard its customers' financial data.
4. Manufacturing Sector: A manufacturing company aims to optimize its production process and reduce downtime. They collaborate with a service provider specialized in industrial analytics by utilizing data sharing and cloud engineering expertise.
These big data platform provider helps to collect real-time sensor data from machinery and equipment, along with historical production data. It identifies potential equipment failures through advanced analytics and predictive maintenance models and recommends proactive maintenance measures. These allow the manufacturing company to schedule maintenance activities strategically, update its cloud infrastructure, minimize unplanned downtime, help in data governance, and reduce operational costs.
Benefits of Data Analytics Services
Focus on core competencies: Outsourcing data analytics to a data assets platform provider allows businesses to focus on their core competencies rather than investing resources in building and maintaining their cloud environment.
Data integration and centralization: Data analytics providers enable businesses to centralize and transform data from various sources, such as internal systems, external databases, and third-party applications. This comprehensive view of business data allows for more accurate analysis.
Gain expertise and support: By leveraging data management services, organizations gain access to a team of experienced data analytics professionals who can provide guidance, support, and expertise throughout the analytics process. It ensures businesses can effectively leverage their data and derive actionable insights from complex datasets.
Reduced time to market: Implementing an in-house data management solution can be time-consuming. DAaaS expedites the time to market by providing pre-configured analytics platforms, eliminating the need for lengthy setup processes. It allows organizations to quickly deploy analytics solutions and promptly derive meaningful insights from their data.
Enhanced security and compliance: Enterprise application development companies prioritize data security measures such as encryption and decryption, other data-sharing access controls, and backups. They also ensure compliance with industry standards and regulations, providing businesses with peace of mind regarding data privacy and legal requirements.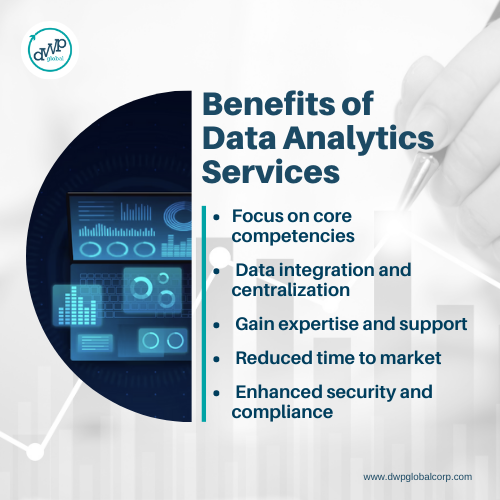 Data Analytics Trends In 2025
Edge computing:  A decentralized computing model that enables computation and data storage to be positioned near the network's edge. It can help to improve the performance and latency of data analytics applications.
Artificial intelligence (A.I.) and machine learning (ML): A.I. and M.L. are becoming increasingly sophisticated and used to power a wide range of data analytics applications. For example, A.I. can identify patterns in data that would be difficult or impossible to find using traditional methods.
Open source: Open source data analytics tools are becoming increasingly popular as they offer several advantages, such as lower cost, greater flexibility, and a larger community of users.
Self-service analytics: Self-service analytics allows users to access and analyze data without needing assistance from I.T. staff. It can empower users to make better decisions and improve business performance.
Data Encryption: As data analytics becomes more widespread, it is important to consider the privacy and security of data. Organizations must implement appropriate security measures to protect sensitive data from unauthorized access.
Join The Future Data Evolution With DWP Global Corp
So far, we have understood how Data Analytics as a Service (DAaaS) represents the next significant evolution in data analytics. Organizations leveraging DAaaS platforms can revolutionize how businesses leverage data, leading to accelerated growth, innovation, and success in the data-driven landscape of the future.
Introducing DWP Global Corp's
DAaaS implementation services
offers strategic advantages for your business. We are the big data service providers which will help you with the following:
Gain insights from a team of qualified data experts.
Optimizing operational expenditures.
Fully customizable analytics applications.
Mitigating risks by solving industry-specific challenges.
Gaining a competitive edge for small and midscale businesses.
Contact us today to learn how our Business Intelligent Services (B.I.) assist in enabling structured data-driven decision-making throughout your business. With the help of data experts and technologies, we develop analytics solutions that meet your needs while delivering on your business priorities. Your future-proof data can be leveraged to improve performance, resiliency, and growth for years.