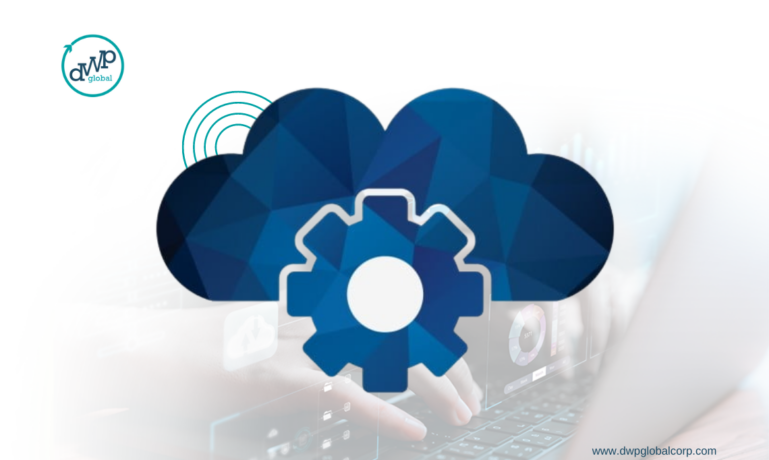 We live in an era where digital transformation and modernization have changed the face of the world. Technology has evolved, and companies are leveraging technology to automate business processes. Digitization and digitalization are the cornerstones of the technological world.
Digitization is converting manual processes like paperwork into digital. Digitalization is converting major business processes into digital. Uber, Netflix, and Amazon are all examples of how modern digital technology and digitalization have transformed existing processes.
Digital transformation is very important to build an intelligent enterprise. DWP Global Corp is your
digital transformation partner
that helps you progress successfully in your digital transformation journey with our various services.
What Is Digital Transformation?
Digital transformation is using and integrating digital technologies to create new business ways. It is the modernization of the approach to your business strategy through implementing automation and is paving the way for a digital future. Digital transformation encompasses various technologies like
artificial intelligence (AI)
, machine learning (ML), cloud computing, mobile apps, virtual reality,
the Internet of Things (IoT)
, etc.
Why Do We Need Digital Transformation?
Digital transformation
is the foundation for technological adaptation. It improves business agility by adapting newer technologies, automating business operations, and thus ensuring business success.
Digital transformation is a step forward to providing a competitive advantage to businesses compared to their analog counterparts. It is about providing better customer experiences through digital channels.
A Brief Introduction To Cloud Computing
The ability to access computer system resources from a remote server through the Internet is called cloud computing. The computer system resources may include servers, storage, software, network, and databases. Cloud services deliver these resources via the Internet by a cloud provider on-demand.
Moving from traditional on-premises computing models to a cloud-based infrastructure is called Cloud Adoption. Implementing it will improve scalability, cost efficiency, and data security. Many top cloud solution Providers like Google, Amazon, and AWS are providing cloud solutions and services to their customers.
Different types of cloud services include:
Software as a Service (SaaS): SaaS is a software licensing and delivery model in which software licensing is provided based on subscription and hosted from the center. It is a service that allows you to use the software hosted on cloud servers by service providers over the Internet.
Platform as a Service (PaaS): It provides complete development and deployment environment with resources in the Cloud. It is a service that allows you to use the network, operating system, servers, database management systems, middleware, etc., as a platform required to execute applications over the Internet.
Infrastructure as a Service (IaaS): It provides an on-demand, pay-as-you-go service that supplies and manages computing infrastructure like storage and networking resources over the Internet.
The top cloud platforms available in three different categories are:
Public Platforms: Microsoft Azure, AWS (Amazon Web Services), Google Cloud Platform
Private Platforms: VMware, SAP HANA cloud platform, IBM Bluemix Cloud
Hybrid Platforms: Azure Stack, AWS Outposts, VMware Cloud Foundation
Cloud technology is an on-demand technology where users consume computer system resources over the internet platform. Consumers can use the resources on pay-per-use mechanisms as opposed to subscription-based technologies. The leading cloud technologies are virtualization, service-oriented architecture (SOA), grid computing, and utility computing.
DWP Global Corp is ahead in providing the best cloud solutions and services. Leverage the proven delivery methodologies and start your business initiatives from the
top cloud solution providers
. Our cloud transformation services provide a smooth transition from legacy systems to the cloud. We are business leaders providing a competitive edge and customer satisfaction for many years.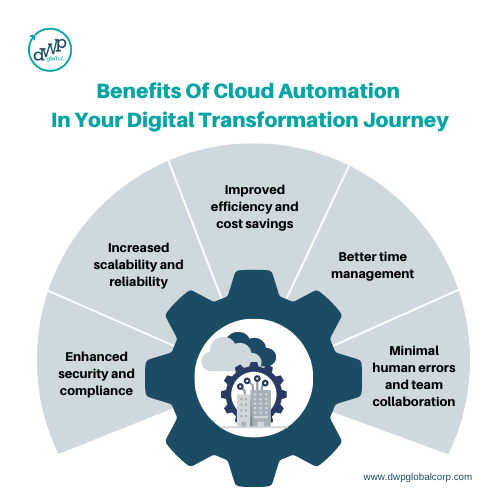 Benefits Of Cloud Automation In Your Digital Transformation Journey
Cloud automation involves automated tools and processes to reduce manual intervention. It is associated with provisioning and executing workflows in a cloud environment. True digital transformation is about leveraging all the digital tools at your disposal – including automation and data analytics capabilities – to transform fundamentally how your business operates and makes decisions. Automation tools can help the cloud vendor provide excellent customer service.
The best way to a successful digital transformation is through process automation. With the right integration capabilities and a process automation solution, you can automate workflows between diverse functions such as customer relationship management, marketing and sales, finance, and support. Workflow automation solution will allow you to provide business functionality in web apps and helps streamline the development process.
Automation can boost your digital transformation by providing the following benefits:
1. Enhanced security and compliance
Cloud automation eliminates the unauthorized use of sensitive information, thereby increasing security. Only authorized persons are allowed to access such information. Information is stored in secure locations to strengthen the security process. Cloud automation eliminates much of the unproductive work associated with risk and compliance.
2. Increased scalability and reliability
Cloud automation allows businesses to scale their resources according to changing business needs. By automating tasks, resources can be allocated dynamically based on demand and need. Automating processes reduces manual tasks and ensures the tasks are done in a timely and reliable manner. Thus, improving the overall reliability of the businesses.
3. Improved efficiency and cost savings
Multiple resources are not required to work on the same processes, thus reducing the cost to the company. Cloud automation helps avoid hiring additional resources, thus improving cost-effectiveness. With cloud automation, businesses can save money. Automating tasks avoids performing repetitive processes manually, thus increasing the overall efficiency of the business.
4. Better time management
Cloud automation
reduces manual intervention by automating repetitive tasks. It considerably reduces the time needed to perform the tasks like tedious data entry that has to be otherwise performed manually. Therefore, cloud automation makes better time management possible as it helps the staff focus on more critical tasks.
5. Minimal human errors and team collaboration
Automated tasks almost vanish human error, which may exist with manual intervention. Tasks can be run correctly the first time around with cloud automation.
Cloud automation helps technical teams communicate effectively by providing a clean environment. As manual tasks are automated, the teams can focus on their strategic initiatives.
DWP Global Corp: The Top Cloud Solution Providers
DWP Global Corp can drive genuine change and improve business performance in myriad ways with their
Cloud Solutions and Services
. They provide an easy migration of legacy applications to cloud environments. They are the
Top Cloud Solution Providers
. With machine learning (ML) infused into the cloud, the cloud's capabilities will vastly improve. The intelligent cloud is an amalgamation of cloud computing and ML. Our cloud automation solutions shape your project's quality and velocity.
Our cloud solutions and services include DevOps and NextOps, and the usage of cloud-based tools like Salesforce Customer Relationship Management (CRM) implementation to focus on your organization's relationships with your customers. BI-related data, such as dashboards, KPIs, etc., can be accessed with Cloud Business Intelligence (BI). These BI applications are hosted on a virtual network or the Internet. Enterprises are turning to cloud-based tools to embrace the agility and accessibility of the Cloud.