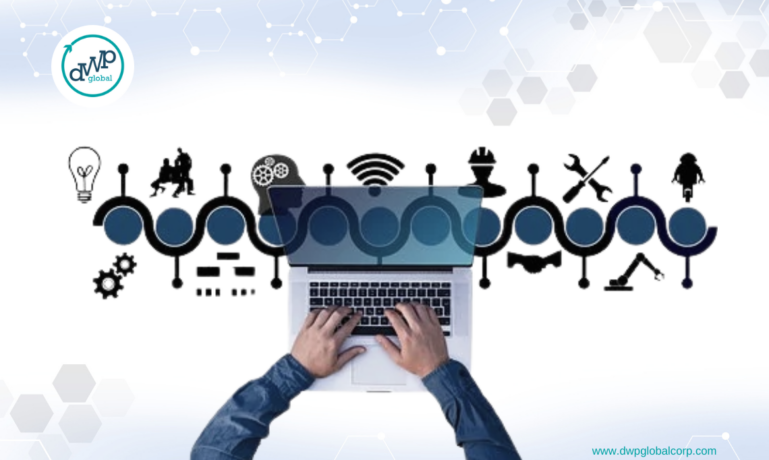 The Internet of Things, in short IoT, is the leading technology of the 21st century that brings luxury and makes our life much easier. Other technologies include blockchain, virtual reality, AI and machine learning, cyber security, automation, etc. But our main focus here is the
Internet of Things (IoT).
It is a network of connected devices that communicate and exchange data with each other through the Internet or other communication technologies like Bluetooth, Wi-Fi, or RFID (Radio frequency identification).
IoT devices are embedded with IoT sensors, electronics, or software, enabling data exchange with other devices or networks. Any equipment or device with smart in it can be qualified as an IoT device. Smart Internet of Things includes smartwatches, smartphones, smart TVs, smart refrigerators, and smart homes. Alexa, Siri, and Cortana are wonderful examples of IoT communication. The benefits of IoT are innumerable, and the world is adapting to the change.
DWP Global Corp is specialized in providing end-to-end and easy-to-
integrate IoT Services
. Please browse through our website for more details and use our services best.
IoT Technology In Different Sectors
Today,
IoT technology
is implemented in many sectors, and significant benefits have been identified across various industries. Organizations have utilized the best IoT applications in key business areas to gain a competitive edge and a futuristic approach. Let us browse through the most important industry sectors which were affected by IoT technology below:
1. Manufacturing Industry
The manufacturing industry has implemented IoT for various reasons like real-time monitoring, remote production control, asset tracking, plant safety and security, logistics management, and predictive repairing. It helps in remote monitoring and in automating complex manufacturing processes. By enabling the machines with IoT, equipment failures can be avoided.
Smart manufacturing has resulted in significant advantages for the sector. The usage of IoT has resulted in increased efficiency and productivity, reduced downtime, high performance, and cost reduction in the sector. It facilitates new revenue generation opportunities.
Predictive maintenance
Real-time machine monitoring
The
Internet of Things
has been the trend in the energy sector as it simplifies the process of energy generation, transmission, and distribution. Efficient energy management through smart energy solutions is the need of the current age as energy consumption is growing phenomenally.
Cloud computing
and advanced data processing platforms have supported the Internet of Things in the energy sector.
Operational efficiency is possible through effective energy management and data analysis. It has already proved to be highly profitable for this sector. Equipment failure is prevented, and cost savings have increased due to reduced downtime. IoT applications improve the visibility and response capabilities of the devices connected to the network. IoT is utilized to monitor asset performance in this sector.
Smart Grid is an example of IoT in this sector.
Smart Meter Technology that records voltage levels and consumption of electricity.
Connected healthcare is what the Internet of Things offers by automating and interconnecting healthcare devices through IoT sensors and microprocessors that talk to each other. Devices can be set up in a hospital to monitor patients' health 24/7. The interconnected devices can communicate with each other, and thus acquired can be uploaded to a cloud platform.
IoT platforms have effectively reduced healthcare service costs and boosted doctors' productivity. The capability of the Internet of Things devices for self-maintenance can reduce the extra overhead on medical personnel. IoT Applications make the healthcare industry easily accessible and smart.
Continuous glucose monitoring
Smart labs
Internet of Things devices
in the retail industry can be a major game changer if implemented properly. IoT enables retailers to have all the details from inventory and sales to the supply chain as it delivers data-driven insights. The IoT-driven retail sector is described as Smart Retail. GPS and RFID technologies are used to track products of respective brands through the entire supply chain process.
Consumers get a smart experience through faster and safer transactions while shopping. Automation can improve resilience, sustainability, and efficiency in retail operations. Online retailing is another place where IoT solutions are used.
Wireless shipment tracking devices
Warehouse Robots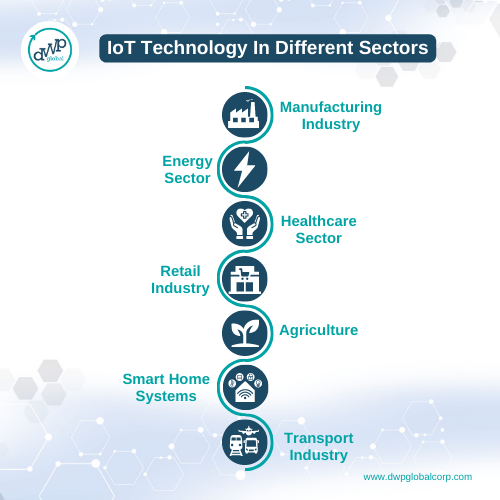 With the ever-increasing world's food demands, agriculture has transformed itself into using IoT Devices. IoT agriculture sensors monitor temperature, humidity, and light in the greenhouse. Irrigation systems are automated with smart agriculture. Agricultural drones have replaced human efforts and are used for spraying, crop monitoring, countering infections and pests, etc.
Precision farming is made possible through the Internet of Things devices. IoT's ability to collect data gives better insights and leads to better decision-making, thus improving crop quality.
Agricultural drones
Smart sprinklers controller
Did you ever have the luxury of your lights turning on as you enter a room without human intervention or having your A/C control the temperature according to the room temperature? That's the convenience of having IoT-controlled smart devices at home. Smart buildings are wonderful progress towards a hassle-free future and an innovative experience.
Lives have been made easy with smart home appliances which are IoT enabled. Smart buildings are equipped with smart locking systems and appliances. Customer adaptability and technical literacy is the main challenge in this sector. This sector is a vision for the tech-savvy future and how the world shapes into a technology-driven smart ecosystem.
Amazon Alexa
Google Assistant
7. Transportation Industry
Transportation companies are ensuring passenger safety by using IoT. In railways, safety is assured by monitoring train speeds, automatic route shifting, and avoiding accidents. Intelligent traffic transport systems are made possible by IoT automatic control of traffic signals and traffic flow analysis. Parking is made easier by checking with sensors if the spots are available.
IoT has made tremendous progress in the transportation sector. It made rail and road travel a smooth experience for passengers. Airlines are making radical advancements using sensors to improve connectivity and provide a better passenger experience.
Electronic Toll Collection Systems like FASTag, where RFID is used.
Uber
The global IoT market enables SMEs (Small and Medium Enterprises) to shorten delivery time, cut costs, and increase production. The immense benefits of IoT cannot be ignored and are bound to transform the world for a better future.
The Benefits Of IoT From DWP Global Corp.
DWP Global Corp is specialized in providing
end-to-end IoT services
. Our easy-to-integrate IoT services offer highly effective solutions to your IoT needs. DWP Global Corp offers intelligent IoT services to connect and integrate devices like wearables, networks, sensors, clouds, and apps.
DWP Global Corp is an
Application Development Service Provider
making it possible to keep up with the latest technologies. The application development team provides cutting-edge solutions as per your business needs. Whether banking, manufacturing, insurance, finance, or Retail, we have the right solution with operative effectiveness that increases business revenues. Our
Cloud Solutions and Services
include DevOps and NextOps.