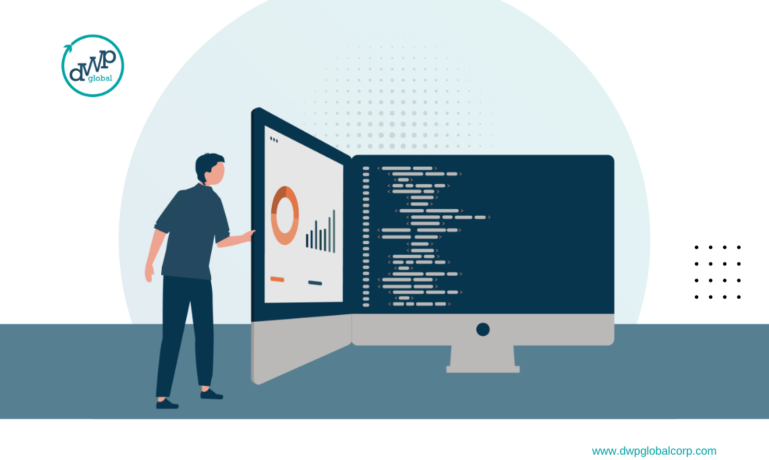 Low-code platforms are becoming increasingly popular for lean manufacturing because they simplify and accelerate the software development process. Low-code platforms enable development teams to rapidly develop, deploy, and maintain custom software applications with minimal coding experience by providing multiple data points and user interfaces. This approach is ideal for lean manufacturing because it allows companies to respond quickly to changing demands and reduce the highest scrap production while improving operational efficiency and productivity.
Essentially, waste in the production process refers to any operation that adds no value and is irrelevant to the customer. These include transportation, motion, inventory, over-processing, waiting, defects, and over-production.
Low-code software
can help with this process in implementing smart factories through business logic.
Benefits Of Applying Lean Principles
Many low-code platforms offer a comprehensive set of pre-built components, widgets, and templates that enable developers to create applications quickly without writing code from scratch. These pre-built components can come from the platform itself or third-party vendors specializing in providing certain functionalities like
Artificial Intelligence
(AI),
machine learning
, blockchain, and voice and facial recognition services.
In addition, low-code platforms often have integrations with popular cloud services, such as Amazon Web Services, Google Cloud, and Microsoft Azure, which offer a wide range of smart services and APIs that can be used to add powerful functionality to your low-code applications. For example, you might use an
Artificial Intelligence
service to categorize data automatically or a machine learning service to predict future trends based on historical data.
Let us understand in depth the benefits of using lean methodologies:
Lean manufacturing can help low-code development platforms reduce waste and harness the material supply in their application development.
Fewer errors and defects can result in higher-quality software.
Efficiency and productivity improvement
A lean manufacturing approach can improve efficiency, update legacy systems, and aid manufacturing.
Shorter development cycles and reduced time-to-market for swift product delivery.
Customer-centric approach
Lean manufacturing can help low-code platforms better understand customers' needs and preferences and help in digital transformation.
This understanding can lead to more customized and personalized software solutions in mobile apps.
Resource utilization and re-investment
Along with saving the initial cost, reducing waste and streamlining development processes can save time and resources.
These resources can be reinvested into quality improvement and production processes.
Collaboration and communication improvement
Lean manufacturing can improve collaboration and communication among team members.
It can lead to more effective problem-solving and decision-making for smart factories.
Employee empowerment and satisfaction
Low-code platforms that adopt lean manufacturing principles may benefit from improved employee engagement and job satisfaction.
Employees are empowered to identify and solve development problems and improve the quality management process.
According to the report by
grand view research
, The low-code development platform market had a global valuation of USD 5.5 billion in 2021 and is projected to grow at a CAGR of approximately 22.9% between 2022 and 2030.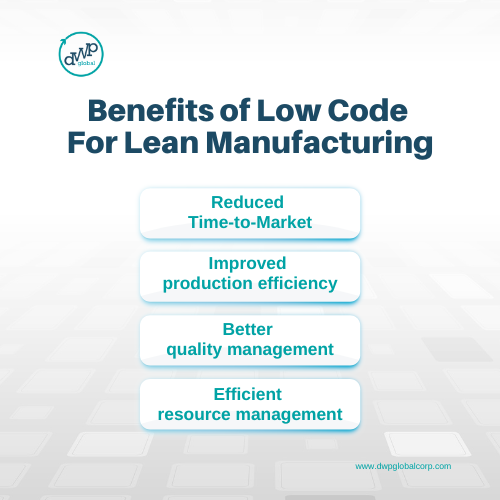 Introduction To Low-Code Development Platforms
Traditional coding methods can be time-consuming and require significant equipment performance, making it difficult to adapt quickly to changing market demands. The solution is low-code software that allows developers to quickly build powerful applications using artificial intelligence and low-code development tools. It benefits developers to adopt lean manufacturing practices at a much lower cost and without hiring experienced developers. With low-code solutions, developers can build quality, easily customizable software that can be updated quickly to meet changing market demands.
The low-code approach reduces the time and resources required to develop apps by maximizing efficiency and machine output. Developers must minimize the required code and reduce coding errors or defects to implement a low-code approach and streamline production operations effectively. To accomplish this, developers need faster, easier ways to develop software and monitor systems throughout development.
These allow manufacturing apps to quickly implement a low-code approach more affordably, efficiently, and with higher-quality results.
Low Code For Lean Manufacturing Principles
Low-code software services enable manufacturers to rapidly develop and deploy mobile-friendly applications, accelerating time-to-market while reducing development costs. With the help of low-code platforms, manufacturers can quickly develop custom software applications to track manufacturing processes, including inventory, inspections, and quality control. It allows easier tracking of production processes and helps minimize waste and defects, thus furthering lean manufacturing principles.
Improved production efficiency
Manufacturing analytics is another area where low-code software can be of great value. With the help of low-code/no-code software, manufacturers can easily collect real-time data on a mobile device, which can then be analyzed to identify areas for optimization and improvement. The data generated by low-code applications helps manufacturers understand the best practices associated with each segment of the process and can be used to create workflows that ensure workers work to a minimum standard, thus increasing productivity and reducing waste.
Better quality management
With low-code apps, manufacturers can monitor and track product quality throughout production.
Low-code software development
allows for the customization of the apps to track workers' activities, locations, and productivity. Manufacturers can quickly identify and correct defects by monitoring product quality, reducing product recall risks and improving customer satisfaction.
Efficient resource management
Smart manufacturing is the future of the manufacturing industry, and low-code software development companies can help manufacturers achieve this goal. With low-code platforms, manufacturing teams can integrate data from different systems into a single application, reducing data silos and improving resource management. Low-code apps can also predict real-time customer demands, allowing manufacturers to adjust production processes and meet customer needs quickly and efficiently.
Transforming Business Operations: DWP Global's Low-Code Implementation
So far, we have understood that the
best software development companies
, which help low-code platform manufacturers with a powerful tool to optimize the production process, reduce waste and production defects, and ultimately meet the needs at all the stages of the software development life cycle (SDLC).
DWP Global, a leading technology partner, helps businesses become digitally transformed enterprises. Their innovative solutions leverage cutting-edge technologies and low-code/no-code platforms to create data-driven businesses.
DWP Global provides businesses with tailored solutions, including robust app development, data warehousing, and business intelligence services. As expert legacy upgrade partners, they also excel in data integration services, ensuring seamless data flow across systems.