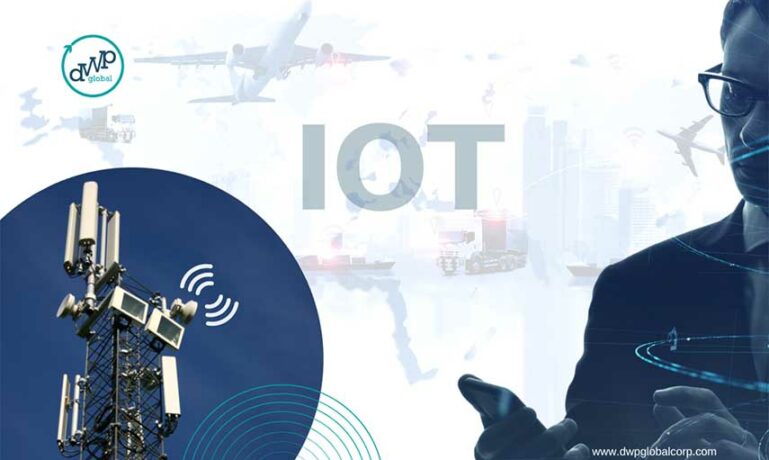 The Internet of Things (IoT) is no longer a new technology in the digital revolution. It has brought a new era of interconnectivity with smart devices to the world. Around the world,
IoT solutions
are actively implemented in various sectors. The current article focuses on how the Internet of Things impacts the telecom industry and its business revenue. Keep reading to know more!!
IoT is a rapidly evolving technology that can transform an object into a smart device by connecting it to the internet. The Internet of Things (IoT) is a game-changing technology that can potentially drive digital transformation for many businesses.
IoT platforms
are used for various business goals. From smart healthcare, smart buildings, and smart manufacturing to smart supply chain management, IoT solutions are helping every business to innovate and implement digital transformation.
The basic principle of IoT technology is the connectivity between web-enabled smart devices, the cloud, and between the devices themselves. For example, a smart lightbulb, a smart refrigerator, etc., that can be controlled via the internet is an IoT device.
According to statistics, the global IoT market is predicted to grow to over $1 trillion by 2030. Moreover, around the globe, the number of IoT-connected devices is predicted to triple over time.
Many big industries and the telecom sector can take advantage of the emerging IoT market in three key ways. They can implement smart industrial monitoring systems to investigate malfunctions, run firmware upgrades, and keep track of inventory. These monitoring solutions can decrease losses or accidents and improve productivity and efficiency.
IoT Adoption In Telecom Companies
In recent years, telecom companies have searched for ways to diversify their business model and stand out globally. Internet of Things (IoT) technology in the telecom industry has strengthened exponentially and promised huge opportunities.
Telecom service providers already have the advantage of having a massive data repository. They can now utilize IoT connectivity services to increase efficiency and maximize resource utilization. They can seamlessly connect their physical assets to the cloud services and allow users to remotely manage their devices at home or across the globe. Moreover, advances in more rich data flow and better ways to collect and use the data have given additional leverage to telecom companies. With advanced analytics and real-time data insights, cellular networks have become the sought-after data sources for other industries like FMCG, fashion, logistics, etc.
With the application of IoT technologies in telecommunications, consumers and businesses can 
Monitor their device's usage and performance, such as potential issues with data usage, visibility of data in the device, etc.
With IoT service delivery, companies can manage their inventory and supply chain by ensuring the goods reach the consumers on time because of the higher communication speed of real-time data between manufacturers and retail outlets.
Companies can apply data analytics for the existing data from traditional telecom services and have better insights into user behavior. They can increase their product usage and customer loyalty by applying these insights to their products.
Impact Of Modern IoT Devices In The Telecom World
Let us look at how modern IoT services play a unique role in helping communications service providers(CSPs) with business innovation.
Studies show that companies that have invested in IoT technologies get their returns in the initial days of implementing the solutions, which is very important for any telecom startup or a leading organization. Yet, many companies are struggling to harness the true potential of IoT technologies due to the lack of network connectivity.
The Telecom industry is the new data market and needs greater data capacity to use this interconnectivity. And IoT applications need robust mobile network coverage like 5G to communicate with application servers, routers, gateways, and other IoT devices.
5G is much better at handling metadata with low latency compared to previous networks and is necessary for IoT applications. Telcom businesses with a strong 5G strategy can corner the market. Many network providers have upgraded to 5G to help solve this connectivity hurdle and manage huge amounts of data.
IoT networks can enable swift communication between the user and their smart device. This has created a new market for device manufacturers to diversify their product offerings and create smart homes or smart communities. Manufacturers and producers can create an endless supply chain of products based on smart insights given in real-time due to IoT enabled by telcos.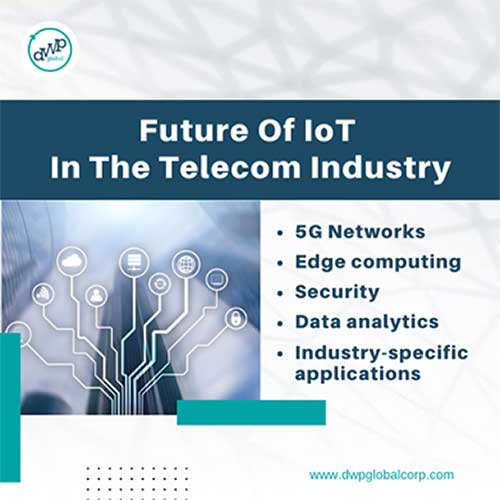 Future Of IoT In The Telecom Industry
The Internet of Things (IoT) is rapidly transforming the telecommunications industry. As the number of connected devices continues to increase, the demand for faster and more reliable connectivity will only increase. Telecom providers must adapt to meet the demands of this growing ecosystem. Here are some of the key trends shaping the future of IoT in the telecom industry:
5G Networks: The emergence of 5G networks is set to revolutionize the IoT industry, offering faster and more reliable connectivity. With 5G, IoT devices can send and receive data in near real-time, enabling a new era of applications that require low latency and high throughput.
Edge computing: As IoT devices generate more data, there will be a need to process this data closer to the source. Edge computing will allow for faster processing of data, reducing latency and enabling real-time decision-making.
Security: As the number of connected devices increases, so does the risk of cyber attacks. Telecom providers must invest in advanced security solutions to protect the data generated by IoT devices.
Data analytics: The data generated by IoT devices can provide valuable insights that can help telecom providers improve their services. Data analytics tools will become increasingly important in the management of IoT networks.
Industry-specific applications: The telecom industry is well-positioned to develop industry-specific IoT applications. For example, smart cities, connected cars, and healthcare applications are just a few areas where IoT can improve efficiency and safety.
Role Of DWP Global In Implementing IoT Solutions
DWP Global is a leading IT company with expertise in IoT services. It provides the perfect end-to-end solution to your major market challenge and keeps you standing out in the competition with concrete business outcomes. We are partnered up with major channel players to harness the potential of IoT in achieving productivity and efficiency. Our services reach a wider spectrum of customers from diverse industries for numerous requirements.
DWP Global benefits businesses by providing perfect solutions for creating robust apps, Data warehousing, and
Business intelligence services
. They are the Best
Legacy upgrade
Partners and are efficient as Data Integration Service Providers.
Reach out to our professionals to achieve a competitive advantage with our value-added services.