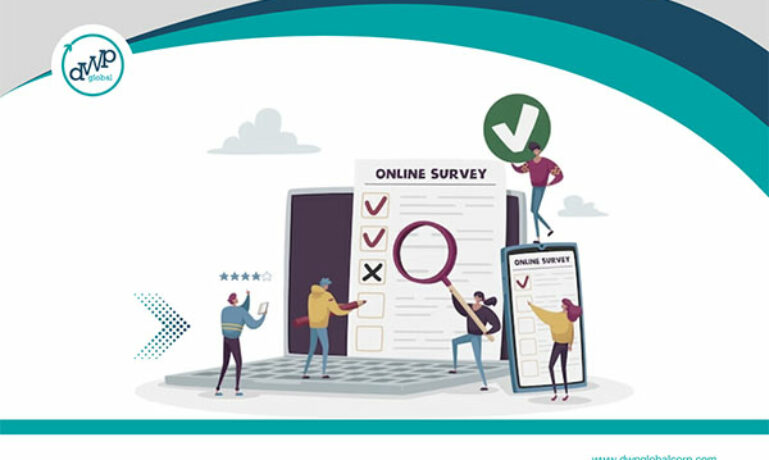 What Is An Online Survey Tool?
Survey tools are software applications developed to create and interpret surveys of various types. Website design and development companies develop links that can be incorporated into websites, emails, mobile apps, or social media. Online survey tools are preferred over manual surveys or offline surveys, as they reduce the human errors that may occur and are also time-saving, cost-effective, and user-friendly to consumers.
These surveys can be accessed by anyone who uses the internet. The response rate achieved through these survey tools is quite accurate. These tools are designed and developed with features such as ranking, multiple choices, question types, and categories based on the type of survey logic.
Hence it is ideal for organizations to hire software development companies that develop these applications useful for their survey analysis. Also, it is essential that these firms consider a few aspects before selecting these service providers to develop these survey tools.
Top 10 Must-Have Features For An Online Survey Tool
Finding a survey tool with various features can help you design a diversified set of questions and the perfect survey for your respondent. 10 essential features when choosing online survey software include the following:
Logic branching: Survey logic
Branching the survey or splitting it according to the preferred choices of customer purchases is quintessential. Not only does branching provide clarity to the customer on the survey conducted, but it also benefits the organization by filtering the customer easily. Using skip logic and demographic method avoids aimless surveys.
Display and design layout: Flexible look and feel
One of the ideal ways to attract the consumer to online surveys is the present the survey link with an eye-catching yet meaningful user interface. This method, where the survey is presented with attractive colors and fonts, automatically engages the customer in the online survey actively.
Embedded survey method:
It is extremely important to ensure the survey link is embedded in the website the user refers to, and this makes it easier for the end user to have a button clicked that routes to the survey link. The advantage of embedding the link with the app or website is that it allows survey participants to stay on the particular site without opening a separate session source link to complete the survey. The website design and development company should be able to provide online survey tool applications with such embedded methods.
Good security
Confidentiality of customer data while collecting feedback is important as it is easy for hackers to collect data through these tools. Hence it is important to maintain gold standards for information and data security. An efficient web application development company always checks for the security of the end-user data.
Data analysis
Software Development companies should be able to provide tools that provide survey takers with graphics or excel graphs that allow viewing the collective survey responses at once rather than referring to individual surveys one at a time.
Integrations
An ideal Website Design and Development Company would be an online survey tool with an integration feature that prevents redundancy at various analysis stages. This feature allows you to export data directly to dropbox without losing information midway.
Multiple channels to collect feedback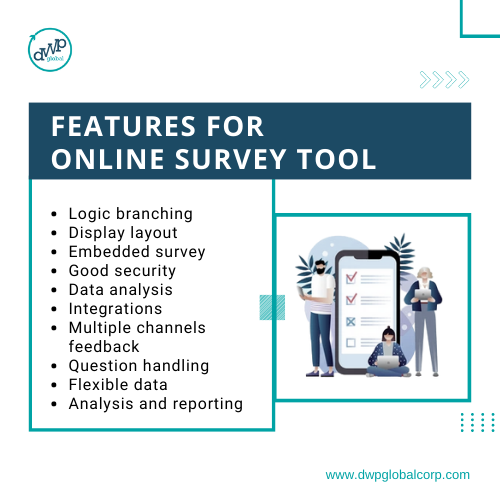 Multiple channel feedback is an important functionality an online survey tool has to offer. Creating surveys with this approach improves response rates, which can be enhanced with an automated feedback program. An efficient online survey tool must be capable enough to collect customer feedback from various channels such as email, websites, mobiles, google forms, or physical kiosks.
Good question-handling tools
Online survey tools should provide a good question format that makes the survey interesting. Certain topics have questions with various choices of products, and it becomes difficult for consumers to go through all the products. Hence such questions should be followed by a piping question that presents the previous question in a different format.
Flexible data outputs:
Its been a standard practice to tabulate the research or survey data into excel format. Though it is ideal to pivot tables or cross-tabulations, combining answers or grouping codes becomes hectic. Hence software packages such as SPSS (statistical package for social sciences) and SSS (software service system) are useful for survey data responses. Such packages are compatible with many online survey apps, and they can extract survey responses easily with these packages.
Sufficient analysis and reporting
Web application development companies should generate tools that leverage cross-tabulation or process collected data when the survey taker selects a particular category or banner points, such as users living in a city of so and so age, gender, etc. Furthermore, linking these customer databases to external databases as a part of automation to dashboards.
An efficient software development company can provide service tools with all the above features at affordable pricing that help businesses progress further with market research inputs. It also provides organizations with scalable, secure apps that are easy to install and maintain.
Apart from the above factors, a dedicated customer success manager would be an ideal way to handle online surveys as it involves one-on-one interviews and conversational surveys to gather customer experience. According to the employee surveys, recurrent customer surveys encourage the employees to perform better and know where the improvisations are essential. As maximum consumers are mobile users, it is quintessential that these survey tools are compatible to run on smartphones.
Studies and researches indicate an expected increase in the global online survey software market size from USD 4973.66 million in 2022 to USD 9524.26 million by 2028 and is forecast to achieve a CAGR of 11.44% during this period. Online survey methods are the best way to reach the bottom of customer perception, analyze the shortcoming, and determine the areas to excel. Survey tools encourage firms to data-driven decisions, as they always give accurate results.
Role of DWP Global In Developing Survey Apps
DWP Global is a software development company with expertise in designing and developing online survey applications for different requirements to reach a wider spectrum of customers. They benefit businesses by providing a perfect software solution that helps them to achieve productivity and efficiency.
They are pioneers in developing web, mobile, and desktop-based software applications. At DWP global, they develop secured apps accessible anytime, anywhere, easily installable, and accessible on multiple devices. They efficiently create robust apps that are visually appealing and compatible with the user interface. So, reach out to our experts and acquaint yourself with the services.