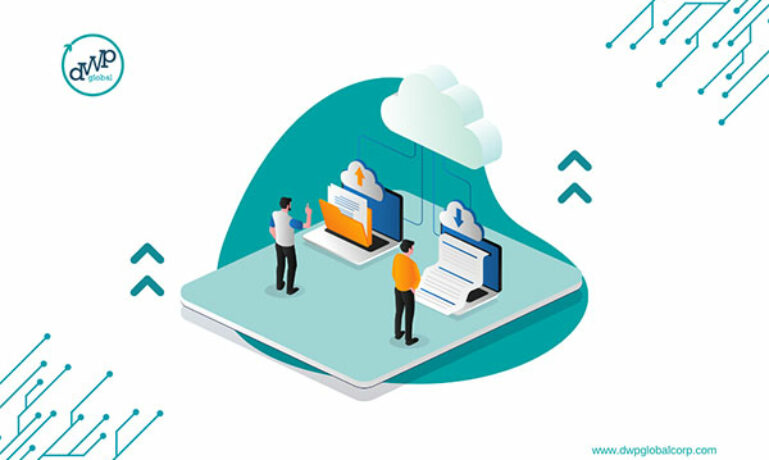 Organizations look for multiple ways to enhance productivity, increase efficiency and maximize profits. The advent of cloud computing, which is a part of overall IT modernization, has made business processes and applications accessible to all internal workforce within the organization. A good
migration service provider
can help organizations utilize cloud technology to meet their business needs.
Cloud Solutions & Services Benefits
Cloud migration is the movement of application workloads and their data from the local premises to servers accessible over the Internet. Cloud solutions and services providers are in demand today because of the following benefits that cloud migration carries with it.
Cloud infrastructure is larger than an organization's in-house data centers. It comes with the benefit of timely security updates, blockage of potential security threats, and regular OS updates, which your business need not worry about. Also, there is no risk of data loss, as it is completely safe in the cloud platform.
One of the popular benefits of cloud computing is the data accessibility it provides to all users within an organization. They can access the data from anywhere in the cloud platform.
Cost-effective operation:
Cloud computing helps to save a lot of cost and time. Using a dedicated server for your organization's needs would cost much more than using a shared space. A public cloud like Google Cloud optimizes several organizations' computing needs, thus saving you from paying for idle infrastructure. Moving to a public cloud can save your upfront capital investment in setting up your localized server. For instance, Microsoft Azure and other platforms incur an annual expenditure of more than 1 billion USD for cybersecurity. Organizations that use their cloud solutions and services can therefore be free of worrying about security.
Greater flexibility and mobility:
Using a shared space brings greater flexibility in leveraging your workforce for multiple operations according to the business requirement because of increased accessibility.
Choosing The Correct Cloud Migration Strategy For Your Business
A cloud provider can render numerous cloud migration services, including re-hosting, re-platforming, re-purchasing, re-architecting, retiring, retaining, and cold migration. It is often confusing to pick the right one for your business. You can select from among these strategies in the
cloud migration
 process as per the following steps.
Analyze your business workflow:
Identify bottlenecks in your business functions by evaluating and performing a business process mapping. It lets you know which part of the workflow to streamline when you migrate data and applications to the cloud. You can also determine if you need a code to refactor when you do an application migration.
After identifying your business needs, it is time to choose the strategy. For instance, re-hosting is the option if you only need to lift and shift the current applications and move them to the cloud without making any changes. But if you need a code change, you can adopt the re-architecting strategy. In case you need this way; you can choose a strategy as per your business requirement.
The next step is to migrate data from the local servers to the cloud by following the strategy adopted.
Optimization and risk mitigation:
Common migration challenges include failure of critical services, unauthorized modifications to the hardware or software, or business operations exceeding the budget. It is good to analyze the cloud migration risks beforehand so that you can work on a backup option. Once the migration process is done, you should work with your 
cloud service provider
 to optimize the cloud applications for your workforce to bring about maximum efficiency.
Major Cloud Service providers like Amazon Web Services, Google Cloud, and Microsoft Azure take care of maintaining cloud-native applications, which you do not have to worry about. If you use other cloud solutions and services, the maintenance onus lies with your cloud migration provider.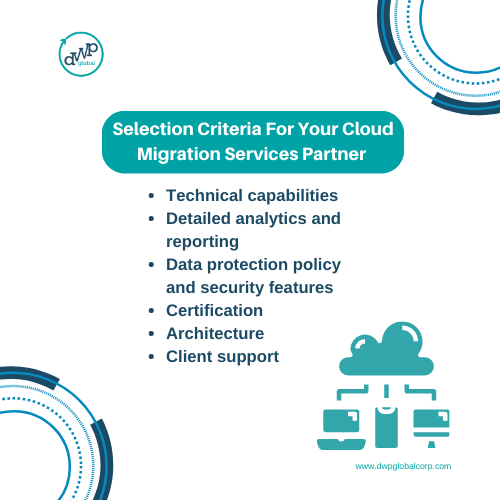 Your Cloud Migration Services Partner - Selection Criteria
The following criteria help you choose the best cloud migration service providers for your business.
One of the reasons to outsource your cloud migration process to 
enterprise cloud services
 providers is their technical skill and expertise. By reviewing their past projects, you can gain valuable insights into the quality of their services, which helps you determine if they are the best choice for your business.
Detailed analytics and reporting:
Your organization needs detailed reports about website traffic, resource consumption, and other useful metrics in your cloud environment to define business objectives and track progress. Choosing a cloud migration services partner who can offer these reports is beneficial.
Data protection policy and security features:
Information security and data protection are imperative when choosing your cloud partner, whose policies should align with the compliance standards of your business. Their security policies should be transparent so that your business does not encounter a data breach.
Cloud service providers should meet all industry standards and compliance regulations. They should have quality certification from the appropriate regulatory board to make people aware of their quality standards.
You should check if your cloud partner provides serverless architecture, virtual machines, or a web application and whether it suits your business requirement. In the case of a serverless architecture, any user can access any application at any place and on any device. It enables a rapid supply of resources in real-time amidst disproportionate load fluctuation. Virtual machines make data recovery easy and lower hardware costs. A web application allows the organization to be free from software installation or operating system while directly deploying the code.
Choose a cloud service provider who delivers round-the-clock infrastructure support so that your operations can continue beyond business hours.
The Best Cloud Solutions And Services Providers For Your Business
DWP Global Corp is your business's best cloud migration partner as they apply their technical expertise to create, manage and optimize your business functions to match your business goals. They provide the
best cloud migration services
that enable rapid scalability of your business to meet the market demand. They are your
best legacy upgrade partners
who also provide greater IT staff productivity, faster cloud-based solutions implementation, and wonderful customer service. To avail of their seamless application and data migration services, visit their website and get a quote today.