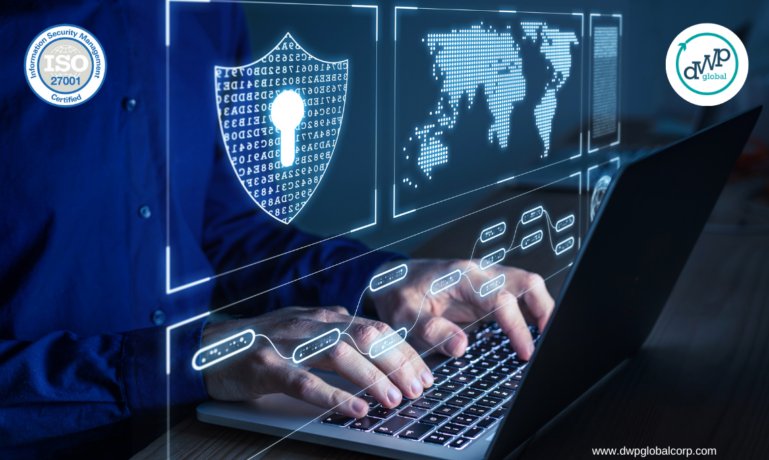 With technology propelling business operations in our digital age, strong cybersecurity practices are vital, particularly for small businesses. As they embrace digital platforms, cloud services, and networks to enhance efficiency and reach, they're exposed to diverse cyber threats, including data breaches, ransomware, phishing, and malware. The risks are extensive and severe.
Thus, adopting customized cybersecurity for small businesses is crucial to safeguard sensitive data. The 5 Cs of cybersecurity include continuity, change, coverage, cost, and compliance. This article explores strategies to fortify digital defenses, ensuring data integrity, availability, and confidentiality. These measures protect operations and customer trust in a challenging cyber environment.
Why Cyber Security Is Crucial For Small Business Owners?
Cyber security is crucial for small businesses because they are just as vulnerable to online threats as larger enterprises, if not more so. Due to their limited resources and absence of dedicated IT departments, small businesses become targets of cybercriminals.
A successful cyberattack can have devastating consequences, leading to financial data losses, reputational damage, and even business closure. Customer data, financial records, and proprietary information are all at risk. 
Moreover, breaches can erode customer trust and loyalty. By prioritizing cybersecurity, small businesses safeguard their operations, preserve customer confidence, and ensure a stable and secure digital presence in an increasingly interconnected world.
What Are The Consequences Of Cyber Attacks On Small Businesses (SMBs)?
Cyber attacks on small businesses can cascade, impacting finances, operations, reputation, and customer relationships. Based on IBM's 2022 report on the Price of Data Breaches, a typical data breach expense is
around $4.45 million
. If your business operates in the United States, this cost can double. Some of the security vulnerabilities it can lead to are:
Financial Losses: Malicious software can result in direct financial losses due to stolen funds, fraudulent transactions, and the costs associated with repairing systems and recovering data.
Reputation Damage: A cyber attack can tarnish the reputation of an SMB, eroding trust and credibility among customers, partners, and stakeholders.
Data Breach Fallout: Breached customer data can lead to legal and regulatory penalties and potential lawsuits from affected parties.
Operational Disruption: Cyber attacks can disrupt day-to-day operations, causing downtime, loss of productivity, and potential service interruptions.
Ransomware Ransoms: Ransomware attacks can lock critical systems, forcing SMBs to pay a hefty ransom to regain access to their data.
Intellectual Property Theft: Valuable intellectual property and trade secrets can be stolen, impacting the SMB's competitive advantage.
Loss of Customer Trust: A breach can lead to customer churn and a decline in future business due to concerns about formal security policies.
Resource Drain: Dealing with the aftermath of an attack requires time, effort, and financial resources, diverting focus from core business activities.
Cyber Insurance Costs: SMBs might need to invest in cyber insurance, adding to operational expenses.
Legal and Regulatory Compliance Challenges: Non-compliance with data protection regulations can lead to legal actions and fines.
Supply Chain Disruptions: Cyber attacks on SMBs can ripple through supply chains, affecting partners and vendors.
Loss of Business Opportunities: The reputational damage from an attack can deter potential clients and partners from engaging with the SMB.
Seven Essential Tips For Small To Medium Businesses To Keep Your Data Secure
1. Provide Employee Training: Providing cybersecurity training for your employees is like arming them with the knowledge to protect your business's essential data and word-processing documents. Teach them to recognize suspicious emails and websites within the Wi-Fi network. For instance, a small business owner named Sarah implemented regular training sessions for her team. One day, an employee received an email claiming to be from a client requesting urgent financial information. Thanks to the training, the employee spotted the red flags, avoided a potential phishing attack, and alerted the IT department.
2. Have an Incident Response Plan: Think of risk assessment as a detective uncovering vulnerabilities before exploiting them. You can identify weak points in your cybersecurity defenses by conducting a thorough evaluation. For instance, a startup named TechGuard discovered that its customer data was stored in an unencrypted folder, granting employee access to all the corporate networks. After a risk assessment, they implemented encryption software and administrative privileges and limited access to authorized personnel only.
3. Secure Networks With Antivirus Software: Antivirus software acts as a digital shield, much like a security guard at the entrance of your business. It scans electronic spreadsheets and websites for malicious code, blocking potential threats. Consider the case of a bakery business that fell victim to a ransomware attack. Afterward, they installed firewall software with two-factor authentication to protect customer information, even on mobile devices.
4. Do Regular Updates: Software updates are essential repairs for your digital storefront. Just as a physical store needs maintenance to stay secure, your software requires updates to patch vulnerabilities. Imagine your business is an online clothing retailer. Neglecting software updates is comparable to leaving your front door unlocked—an open invitation for cybercriminals to infiltrate and pilfer customer data.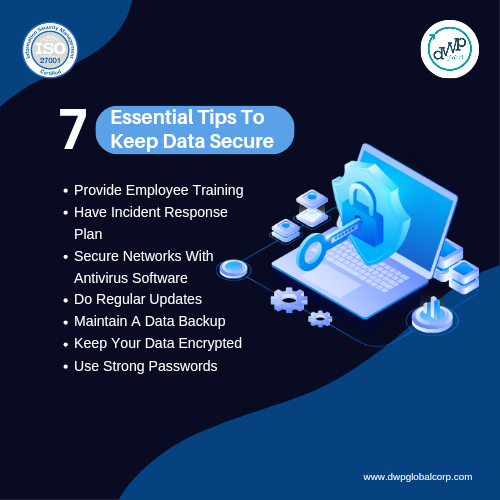 5. Maintain A Data Backup: Data backup is your business's safety net. Consider keeping separate user account data in a proper security system. If your systems are compromised, backups allow you to restore your data and continue business operations. A graphic design company named PixelArt experienced a server crash, but their regular data backups saved the day. They restored their projects and customer files, minimizing downtime and client frustration.
6. Keep Your Data Encrypted: Encryption locks your digital vault, ensuring that your sensitive data remains incomprehensible even if unauthorized individuals gain access. A Virtual Private Network (VPN) helps shield outgoing network traffic, while anti-fraud services enhance protection. Isolate payment systems and install security apps to enforce policies and safeguard your business.
7. Use Strong Passwords: Strong passwords function like unbreakable locks for your digital doors. Without them, cybercriminals could easily gain access to sensitive information. Imagine an e-commerce business owner, Alex, who uses strong password-protect access and enables multi-factor authentication (MFA). Even if hackers obtain Alex's password, they still need validated tools to prevent their attempts to breach the Wi-Fi network and even business computers.
Ensuring Cyber Resilience with DWP Global Corp
In conclusion, embracing these security measures fortifies your small business against the myriad threats lurking in the digital landscape. Similarly, control of physical access, implementing multi-factor authentication, assessing risks, utilizing software tools and security programs, and implementing these cybersecurity practices safeguard your operations and nurture trust among your customers and business network. Introducing DWP Global Corp., your shield against digital threats, offering 
cyber risk mitigation services
and
Asset management cybersecurity
. Let's collaborate and create the best cybersecurity strategy for your corporate network.