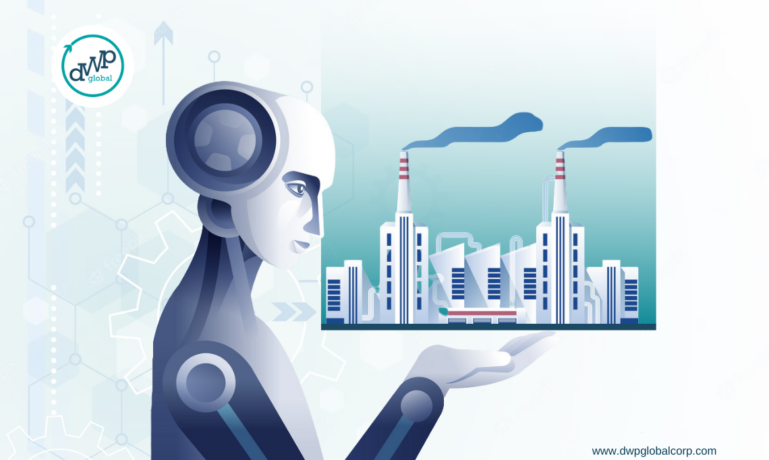 One of the major transformations that the healthcare industry has gone through in recent years is making its services online. The main goal of doing so is to provide individual attention to patients and provide better healthcare services. Automation reduces outpatient traffic in hospitals, allowing for faster emergency response and managing cost savings.
An intelligent automation system combines robotic process automation (RPA) with other cognitive technologies such as artificial intelligence, intelligent character recognition (ICR), analytics, process mining, and optical character recognition (OCR) to create end-to-end business processes that are more resilient and flexible modern business operating models.
In short, IA is the convergence of RPA with
machine learning (ML)
and AI. While RPA automates the manual steps, AI combined with machine learning (ML) automates decision-making. Now, let us know in detail what intelligent automation is and how it helps healthcare organizations.
What Is Intelligent Automation?
Integrating autonomous, intelligent, and robotic systems transforms into an intelligent automation journey. Intelligent automation (IA) widens the scope of core functions and potential tasks that can be automated. IA accounts for transforming the emerging spectrum of technologies such as the Internet of things, blockchains, and artificial intelligence (AI).
IA is transforming efficiency in various sectors such as insurance, commerce, manufacturing, healthcare, life sciences, intellectual property, real estate, telecom, logistics, finance, and banking. RPA within IA uses intelligent robots or bots as virtual employees, automating repetitive and manual tasks.
Intelligent Automation In Healthcare Industry
IA helps healthcare providers successfully improve processes' quality and migrate costs. IA combines with healthcare services to play a significant role in efficiently managing supply chain prices, marketing and sales, claims and billing, and maintaining providing provider networks.
IA combines RPA and OCR and helps healthcare to strengthen business and optimize processes. This combination enables healthcare professionals to improve patient care while IA manages health claims and logs test results. Also, automatic
data migration
improves accuracy and saves time, as there is no human intervention or typographical errors, and no records are ignored. Automation in healthcare is expected to meet a
CAGR (compound annual growth rate)
of 47.6% as the market is expected to increase from USD 14.6 billion in 2023 to USD 102.7 billion by 2028.
Healthcare automation reduces the problem of scattered data, legacy systems, and specialized apps and consolidates them to increase operational efficiency. DWP Global Corp, the
best software development company
, leverages intelligent automation and advanced technologies to overcome modern healthcare challenges.
How Intelligent Automation Has Revolutionized Healthcare System
The various ways IA has revolutionized the healthcare system are mentioned below.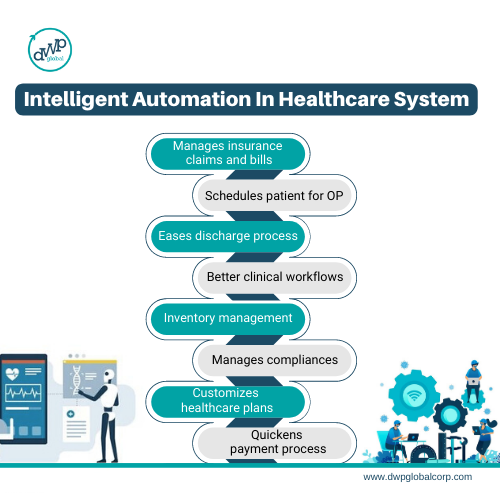 1. Management of insurance claims and billing
Insurance claims and billing is a major challenge for the healthcare RCM (revenue cycle management) sector. Manual collection of patient data can be hectic and also prone to errors. Due to the mundane tasks involved in the rule-based claim and insurance process, it is ideal to regulate these processes through intelligent automation. These tasks are performed through RPA-processed software robots or bots.
Bots process data from various formats and sources of claims before authorization. Bots can identify exceptions in claims, such as eligibility verification, through configurable rules or checking if the claim is incomplete. Through the integration of an automation system with concerned departments, payments can be processed once the claims are approved. IA helps insurance providers to save up to 30 % of the amount spent on processing claims.
2. Patient scheduling for outpatient
The healthcare journey or association of patient and physician credentialing starts from the first appointment of the concerned, and scheduling an appointment is the top priority for a smooth patient experience. The intelligent bots here play a vital role by attaching a personalized experience to the website.
The digital workers not only fix appointments but also direct the patient to the concerned medical care based on the symptoms selected from the mentioned. In addition, bots also act as a catalyst between healthcare and patients and communicate if the patient wants to reschedule appointments, provide reminders to patients, and update them about the various insurance benefits, locations of the concerned hospitals, and prices and offers on health checkups.
3. The discharge process made easy
The discharge process undeniably is the most frustrating for the patient and healthcare providers. A patient management system can make it less time-consuming and simple. The discharge cycle can be automated through intelligent automation, as it eases the processes of getting discharge approvals, follow-up schedules, prescriptions, and post-discharge instructions.
It reduces efforts to be put in by administrative staff and helps them manage the patients efficiently at the discharge.
4. Patient journeys and clinical workflows
One major challenge for hospital staff is the repetitive task of manually updating patients' data, which consumes the time that could be spent on attending to patients. Intelligent automation makes this easy by collecting data from multiple sources and transferring it from one application to another.
It transfers data from one department to another swiftly and supports faster decision-making. Organizing the shifting of patients from one ward to another requires data coordination among multiple branches. Intelligent automation extracts, integrates, circulates, and makes accessing data easy and assists hospital staff in the smooth movement of patients.
Intelligent automation performs nonclinical operations as well. It helps organizations maintain track of medication, gloves, needles, syringes, and supplies. It forecasts and monitors the supply chain, and demand patterns, encouraging healthcare providers to maintain an ideal inventory. It also assists the unit in keeping track of other resources and available rooms.
6. Managing compliances and patient data management
Intelligent automation ensures that patient health outcomes and all regulatory requirements for the healthcare sector are met. It integrates data with role-based access controls to prevent the mishandling of patient data. These compliances are important to maintain reputational, legal, financial, and regulatory reasons for healthcare firms.
7. Healthcare insurance personalization
Data gathered through IA helps healthcare payers to make informed decisions about patient outcomes and encourages them to provide better patient experiences. Automation categorizes patients and segments them based on the data collected. It helps insurance providers to create customized healthcare plans for improving patient care.
Payment has always been challenging for healthcare professionals, and smooth coordination between the healthcare system and insurance providers calls for quick payment processing. The IA gathers all data premium payment history, medical history, diagnostic codes, and various other patient data to initiate easy reimbursement. In addition, intelligent automation automates the aggregation and extraction of data, format, and claims submission to process quickly.
DWP Global Corp As Software Automation Implementation Partners
DWP Global Corp a software development company expertise's in software tools based on the internet of things. It provides economical, robust, and easy-to-integrate end-to-end IoT-based solutions to healthcare organizations. They are implementation partners specialized in  DevOps, ML Ops, and AI-ML technologies. They are Kofax RPA tool installation partners and are pioneers in robust processes.