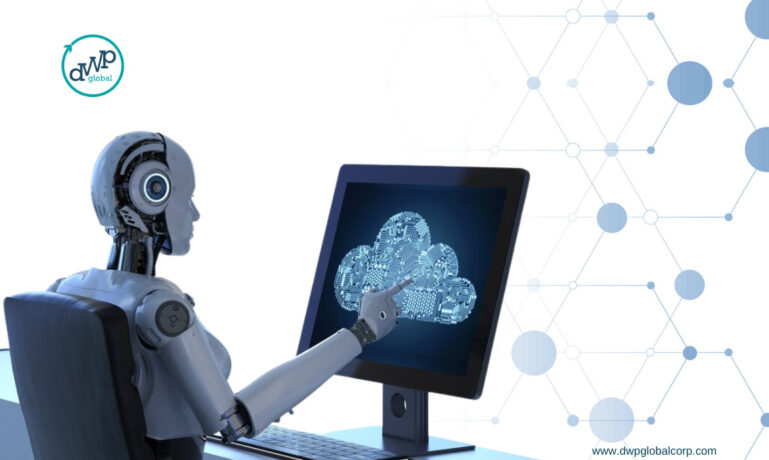 Intelligent Automation (IA) uses advanced technologies such as artificial intelligence, machine learning, and robotics to automate complex business processes. It has evolved beyond automating simple tasks, with Robotic Process Automation (RPA) now capable of handling complex tasks that take account of exceptions and variations. As businesses seek to extract more value from IA, a growing shift is towards cloud-based RPA solutions.
While on-premise RPA has delivered business value, it can be constrained by hardware, software, and staffing limitations. However, one of the prominent RPA systems available today is the
Kofax RPA
software platform. It is built for optimizing routine and mundane activities while streamlining business processes, and it can automate tasks in different departments, including finance, HR, and supply chain management. Now, let us know in detail what Cloud RPA is and what qualities a Cloud RPA service provider must have.
In the age of Digital Transformation, Cloud RPA refers to the use of Robotic Process Automation technology in cloud-based environments, where software bots perform automated tasks and workflows to enhance efficiency and productivity in businesses.
Earlier, software robots used to handle mostly repetitive and routine tasks across legacy systems that did not necessarily integrate with the cloud setup. But now, these bots automate the repetitive tasks and processes in the cloud, enabling organizations to build, deploy and manage RPA bots quickly and securely without the need for additional investment in hardware infrastructure.
DWP Global Corp offers flexible and cost-effective
Cloud Solutions & Services
to streamline your operations and improve efficiency by automating manual tasks and freeing up employees who can focus on more valuable work.
Cloud technology offers agility, scalability, and cost-effectiveness, enabling organizations to rapidly scale their digital workforce without incurring high infrastructure costs. By leveraging RPA in the cloud, businesses can enhance their competitiveness, achieve faster time-to-value, and drive revenue growth.
The platform uses intelligent automation technologies such as computer vision, machine learning, and natural language processing to automate many processes. Kofax Robotic Process Automation is highly scalable and flexible, allowing seamless integration with other business applications. It makes it an efficient and cost-effective solution for organizations seeking to improve operational efficiency and reduce costs.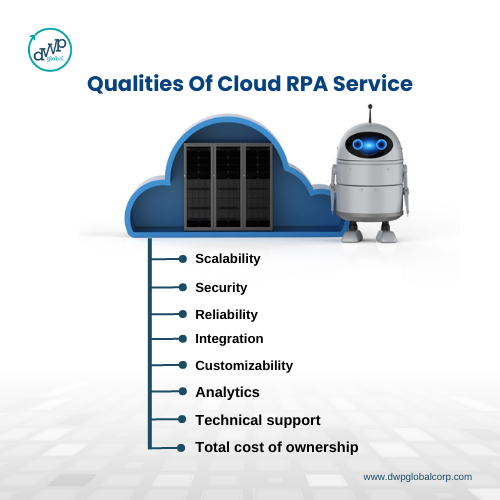 Several Key Qualities A Good Cloud RPA Service Should Have
Cloud-based automation offers scalability and flexibility, allowing businesses to easily scale their automation up or down as needed. It also provides preconfigured digital workers that can be quickly deployed, eliminating the time and effort required to build and manage an in-house automation infrastructure. With an RPA software-as-a-service approach, businesses can reduce costs and have access to scale the resources to support their IA initiatives.
Ensuring the security and availability of software bots is crucial as they become more involved in important business processes. Setting strict Service-level Agreements (SLAs) for downtime and security monitoring is necessary, but it can be challenging for in-house IT teams to match cloud-based technology's rigorous standards. Slow-to-upgrade on-premise technology can lead to security issues and deprive IT of the latest features and functionality.
Cloud solutions can provide easier disaster recovery with data centers in different locations. Compliance and regulatory demands for securing personal and financial data must also be met through effective security measures.
A good cloud RPA service must be reliable. This service should be available and operational 24/7 and have strict SLAs in place to ensure that downtime is kept to an absolute minimum.
Additionally, the service should be scalable and able to handle spikes in demand without any degradation in performance. It is essential for business users that rely on cloud RPA to carry out critical business.
It should enable seamless integration with other business applications and systems, such as ERP, CRM, and HRM, to streamline workflows and enhance efficiency. It allows for a more holistic automation approach, as multiple systems can be automated and connected, leading to better data flow and more accurate insights.
DWP Global Corp offers
Kofax Robotic Process Automation Services
with strong integration capabilities can help organizations achieve end-to-end automation and drive greater business value using the cloud-native architecture.
Every organization has unique needs and operations and a good RPA service should be flexible enough to adapt to those needs. It includes customizing workflows, creating new automation, and integrating with other business applications.
Customizability also means that the RPA journey should be easy to configure and manage, allowing users to make changes without extensive technical knowledge or assistance. It can help organizations achieve greater efficiency and agility in their automation efforts.
The ability to collect and analyze structured and unstructured data from automated processes can provide valuable insights into business operations, identify areas for improvement, and help optimize processes for greater efficiency.
A cloud RPA service with robust analytics capabilities can help organizations make data-driven decisions and continuously improve their automation efforts. Business process automation can create software robots that can leverage features such as real-time monitoring, reporting, and predictive analytics.
The service provider should offer reliable technical support to help users troubleshoot issues and answer their questions. It could include resources such as online documentation, knowledge bases, tutorials, forums, and more direct forms of support like email, phone, or chat support.
The RPA support team should be responsive and knowledgeable and be able to diagnose and resolve any issues that users may encounter quickly.
8. Improved total cost of ownership
The total cost of ownership (TCO) of an intelligent automation (IA) solution considers both the hard and soft costs of owning, managing, and maintaining the systems. It includes the expenses related to purchasing RPA software, creating automated processes, running them on servers, and managing, updating, testing, and securing them.
A cloud-based approach to IA can help reduce TCO by providing a platform that always uses the latest technology, functions, and features. It enables businesses to offer new products and services quickly and stay ahead of the competition.
Academic studies by Oxford University conjecture that up to 35% of all jobs might be automated by 2035 in the global labor market.
Regarding RPA in the cloud, it offers benefits like offsite server maintenance but involves taking server space in the public cloud. It requires businesses to handle application and software management and integration. Additionally, they may need access to the bots.
Also, a managed cloud-based IA service hosted on dedicated platforms provides maximum security and compliance. With a managed service, businesses can reap the benefits of software bots and reduced management overhead.
A reliable cloud RPA service should be flexible, scalable, secure, user-friendly, integrable, offer excellent support, and be cost-effective. By prioritizing these qualities, businesses can select the right cloud RPA service that meets their unique needs and accelerates their digital transformation journey. At DWP Global Corp, we provide robust
cloud RPA service
to help organizations improve overall business performance.