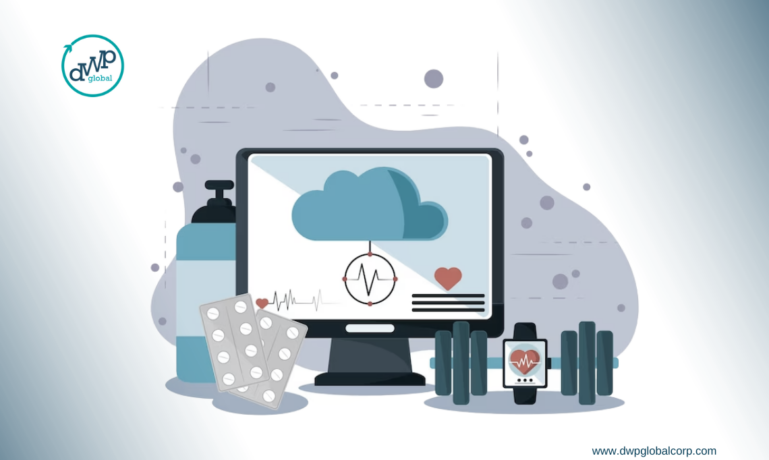 We see a lot of fields today adopting cloud computing technology, including the healthcare industry. One of the reasons for the adoption is the expenses incurred in establishing in-house computing infrastructure, which is way beyond renting IT resources like servers and databases from a software development company. As automation is the mantra of the modern age, cloud computing is the best way to welcome this change in your business. You may resort to well-versed
cloud solutions and services provider
who empowers enterprises with the necessary technology.
Healthcare Cloud Computing Market Dynamics
The Global Market Report of 2023 projects that the cloud computing market share, which stood at USD 483.98 billion in 2022, could grow at a CAGR of 14.1% to reach USD 1554.94 billion by 2030. It shows the growing demand for cloud-based solutions in several industries.
In the healthcare industry, cloud computing refers to storing, managing, and processing healthcare data through remote servers accessible on the Internet. Experienced
cloud solutions and services providers
can help healthcare organizations distribute and assign resources across multiple locations globally without worrying about IT infrastructure management.
Several market segments come up in the process of classification.
Going by the deployment model, the healthcare cloud computing market can be classified into public cloud, private cloud, and hybrid cloud. While the public cloud deployment model is fast growing and is advantageous due to its scalability, the private cloud model is more advantageous than the former for the direct control over the cloud contents it gives to the health IT department while enabling organizations to protect health information and patient data closely. A hybrid model is a combination of the best of both worlds.
The classification based on the service model is Infrastructure as a Service (IaaS), Software as a Service (SaaS), and Platform as a Service (PaaS), of which the SaaS segment made up the largest market share in 2021. The reason is that there are limited upfront capital expenses linked to this model, along with enhanced security features.
The two segments of the healthcare cloud computing market, when classified based on the products, are the healthcare provider solutions which consist of the clinical information system and non-clinical information system, and the healthcare payer solutions. The COVID-19 pandemic led to the adoption of various healthcare technology solutions when there was a rising need for remote patient care. This scenario caused the healthcare provider solutions segment to hold a greater market share.
Among the locations in the purview of the healthcare cloud computing market, North America takes the largest share globally due to its technological advancements and EHR incentive programs by several healthcare providers.
Restraints in the market:
Although it is booming, the healthcare cloud computing market also faces some restraints. Various incidents of cybercrime attacks increase concerns about data privacy and data security. Additionally, there could be interoperability issues among the different cloud tools, due to which there could be a lack of portability. Nevertheless, increasingly, businesses are shifting to cloud technology to reap its numerous benefits.
Applicability Of Cloud Computing In The Healthcare Industry
As elaborated below, there are numerous uses of cloud service in the healthcare field.
Cloud technology helps maintain patients' electronic medical records (EMRs) for quicker access to physicians and nurses. It is a streamlined way of maintaining data, which ensures better data protection than paper records of the past. For instance, a relocated patient may visit different hospitals for the same illness. In this case, cloud-based EMRs can help the hospital staff gain access to the patient's information at different facilities through the stored electronic health records.
The digital health information stored in the cloud infrastructure greatly helps in research methodology wherein medical researchers would require to analyze large sets of data.
Healthcare cloud computing solutions help to run critical applications that extract crucial patient information from huge chunks of unstructured data through machine learning capabilities that involve natural language processing. This automation also helps to reduce the problem of staffing shortages in the healthcare industry.
They offer an enriched patient experience by making remote patient care possible, as witnessed during the recent pandemic.
It reduces the potential risk of data loss.
It is cost-effective.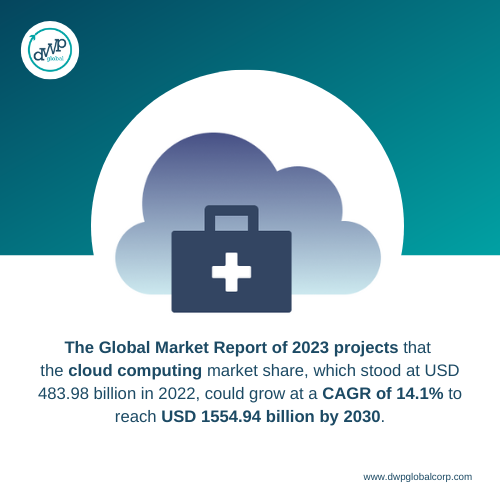 Healthcare Cloud Computing Market Trends Of 2023
The next decade will witness better development in digital health with the emergence of new technologies. Before that, we can project the various possible market trends in 2023 as follows.
Cloud-connected wearable technology:
An expected trend is the rapid expansion of the 'Internet Of Medical Things' by the prevalence of wearable medical devices that help people monitor their health parameters like heart rate, oxygen levels, blood pressure, and more. The devices help gather real-time data that give a timely update on the patient's health condition. The medical devices would be connected through cloud services to be interoperable, capable of data transfer, and provide assistance during clinical trials. By making the readings visible to the patients, these devices help in increasing patient engagement in making decisions regarding their treatment.
Use of artificial intelligence (AI):
2023 is expected to utilize artificial intelligence algorithms and statistical models in radiology information systems to diagnose abnormalities in medical imaging like CT scans and X-rays more accurately, which radiologists may fail to detect.
AI can also help identify abnormalities in patterns visible in surplus data to detect diseases early, suggest a customized treatment plan based on the patient's past records, and determine the best possible treatments for the patient.
Use of chatbots in telemedicine:
The healthcare field could promote computerized physician and patient interaction through consulting services assisted by advanced technology like chatbots for remote assistance of patients with frequently answered questions when physical consultation is not possible.
To keep abreast of the upgrades in cloud computing and implement them for your business, you could learn and obtain certification in different technologies. Amazon Web Services offers the AWS Certified Solutions Architect Associate certification to qualified professionals and beginners with critical cloud implementation skills. Other technical certifications include the AWS Certified Cloud Practitioner, AWS Certified Developer Associate, and AWS Certified SysOps Administrator Associate, to name a few.
Here Is Where You Can Find Certified Top Cloud Solution Providers!
DWP Global Corp is the right solution for all your cloud computing needs. They offer clients the best cloud solutions and services worldwide to empower them with the latest technological innovation to let them stay ahead in a digitally advanced world. Would you take the first step of connecting with them to steer your business toward success?