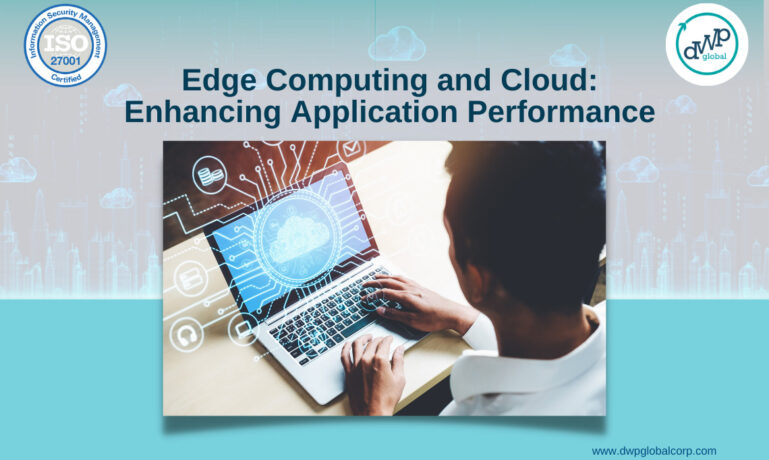 In the dynamic realm of IT, the fusion of Edge and cloud computing has become a vital catalyst for boosting app performance. Edge computing, focusing on analyzing data at the source, and cloud computing, centered on centralized cloud servers, have jointly ushered in a new era of computing prowess. The surge in edge devices and data generation has posed challenges to conventional cloud infrastructures. Centralized data centers, though robust, grapple with latency, network congestion, and security issues. In addressing these challenges, edge computing has emerged as a solution that harmonizes with
cloud technology
, catering to the needs of contemporary applications.
How Edge Computing Betters Cloud Performance
Reduced Latency:
One of the primary reasons why edge computing delivers better performance is the significant reduction in latency. In traditional
cloud computing
, data must travel back and forth from the network's Edge to the centralized data center. This round-trip delay can be detrimental for applications requiring real-time interactions, such as augmented and virtual reality. However, Edge computing processes data locally, eliminating the need for data to traverse long distances, resulting in near-instantaneous responses.
Efficient Data Synchronization Mechanisms: Edge cloud synchronization offers mechanisms that minimize delays in the data processing. Applications can access compute and storage resources at the Edge, ensuring optimal performance without relying solely on the cloud.
Enhanced Data Security: Edge will protect sensitive data by enhancing data security by keeping data closer to the source. It mitigates the risks associated with transmitting sensitive information over networks and centralizing it in the data center. Data breaches become less likely as the data remains distributed across edge security devices and cloud servers.
Scalable and Flexible Infrastructure: Edge computing technologies provide a scalable and flexible infrastructure that can adapt to changing application demands. Edge computing deployments can be easily upgraded to meet evolving performance requirements, providing a dynamic and responsive computing environment.
Real-Time Analytics:
Real-time data analytics empowers real-time
data analytics
by processing information near the network's Edge bandwidth. This capability is essential for applications like predictive analytics, smart cities (urban areas that leverage technology and data-driven solutions), and autonomous systems that require instant decision-making based on incoming data.
Impact Of Edge Computing On Cloud
Edge computing and traditional cloud computing are not mutually exclusive but complementary technologies that coexist to enhance overall performance. Here's how edge computing impacts cloud services:
Offloading Processing: It offloads some processing tasks from centralized edge servers, reducing their workload. This results in improved efficiency and responsiveness in cloud services.
Efficient Data Management: It optimizes data management by filtering, aggregating, and preprocessing data before sending it to the cloud. It reduces the bulk data processing to be transferred over networks and minimizes cloud infrastructure costs.
Enhanced Data Security: Strengthens security by processing sensitive information locally, reducing the exposure of critical data to potential threats in transit.
Application Performance: It enhances application performance by enabling real-time interactions and reducing latency, ensuring a seamless user experience.
Data Sources Integration: Analyzing data from various sources seamlessly prepares it for subsequent cloud-based analytics and further analysis.
Cloud solutions and services
provide businesses with scalable and flexible IT infrastructure and applications, enabling cost-effective and efficient operations.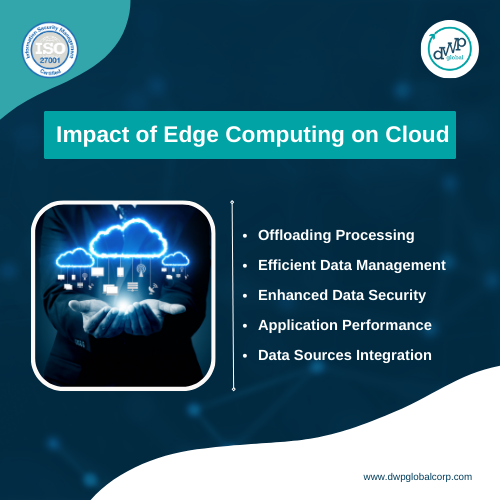 Edge Computing's Synergy With Cloud Services
Edge computing and cloud computing are interdependent technologies that form a symbiotic relationship. While edge computing handles local data processing, cloud technology provides centralized resources and services for more extensive and resource-intensive tasks. They create a holistic computing ecosystem that enhances application performance across various domains.
DWP Global Crop, as one of the
Top Cloud Solution Providers
, delivers cutting-edge technology and expertise to assist businesses in optimizing their cloud operations, guaranteeing scalability, security, and reliability.
Performance Of Edge Computing
The network performance of edge computing is characterized by its ability to:
Handle Data at the Source: Efficiently processes data center generated by network edge, ensuring low latency and real-time interactions.
Reduce Network Congestion: By processing data locally, edge computing minimizes internet congestion, ensuring smooth data transmission and optimal network constraints.
Enable Real-Time Interactions: Edge computing enables applications such as virtual reality, augmented reality, and IoT devices to interact with minimal delays, providing a seamless user experience.
The Future Of Edge Computing
The future of
Edge Computing
holds immense potential and is poised for significant growth and transformation. Here are some key trends and developments expected in the future of edge strategy:
Explosive Growth: Edge computing is anticipated to experience explosive growth in the coming years. The proliferation of IoT devices, 5G networks, and the need for low-latency, real-time processing will drive the adoption of edge computing across various industries.
Distributed Cloud: The concept of distributed computing resources in cloud providers is extended to the Edge of the network, which will gain prominence. This approach combines the centralized cloud and the benefits of edge computing, allowing for seamless integration and data processing.
AI and Machine Learning at the Edge: Edge devices will become increasingly intelligent and capable of locally running AI and machine learning models. It will enable quicker decision-making, enhanced automation, and improved insights in Edge analytics.
Autonomous Systems: This will enable autonomous systems, such as self-driving cars and drones. These systems require real-time data processing from sensors and cameras, which edge computing can provide.
Industry-Specific Solutions: Edge computing will continue to evolve with industry-specific solutions. For instance, it can facilitate remote patient monitoring within healthcare, and in manufacturing, it can optimize processes through predictive maintenance.
Enhanced Security: Edge devices will strongly emphasize security by protecting sensitive data, implementing security measures, and ensuring data privacy.
Edge-as-a-Service (EaaS): Like the cloud, edge computing may evolve into an EaaS model, offering on-demand computing resources in Edge. It will allow businesses to scale their edge infrastructure as needed flexibly.
Environmental Sustainability: Energy-efficient edge computing solutions will gain importance as environmental sustainability becomes a priority. Edge devices may incorporate green technologies to minimize their carbon footprint.
Standards and Interoperability: Standardization and interoperability will be critical to ensure that edge computing solutions from different vendors can work seamlessly together. Industry consortia and organizations will play a role in establishing these standards.
Edge computing offers a transformative impact on how data is processed, analyzed, and utilized. It will continue to be a driving force behind the digital transformation of industries, offering low-latency, real-time capabilities essential for emerging technologies and applications. As businesses and industries recognize the value of edge computing in enhancing efficiency, agility, and innovation, we expect to see continued investment and innovation in this space.
DWP Global Crop specializes in
Enterprise Cloud Services
, providing customized solutions tailored to the distinct needs of large enterprises, delivering resilient infrastructure and cutting-edge applications to fuel digital transformation and innovation.
The convergence of edge computing with cloud computing is a transformative step in the processing and management of data. With its emphasis on localized processing, reduced latency, and heightened security, edge computing emerges as a crucial catalyst in improving application performance. It seamlessly complements cloud technology by handling processing tasks, streamlining data management, and ensuring real-time interactions. This synergy between edge and cloud services delivers an adaptable and scalable infrastructure poised to meet the ever-changing needs of contemporary applications.