It requires enterprises to embrace cutting-edge technologies to stay ahead of the competition. Robotic Process Automation (RPA) has emerged as a game-changing tool for streamlining and optimizing business operations, especially for the accounting process. By integrating RPA, businesses can revolutionize their operations, enhance efficiency, and gain a competitive edge in the market. Computer-dependent mechanisms are essential for automating complex tasks and streamlining processes in modern industries.
RPA is a type of business process automation utilizing virtual assistants or AI agents. Unlike traditional workflow automation tools that require programmable software, RPA systems observe user actions in the application's graphical user interface (GUI), mimic those tasks on the screen and perform the exact steps a user/agent would do. RPA simplifies complex workflows and eliminates the need for intricate programming, making it a highly versatile and user-friendly solution for optimizing business processes. It allows seamless data handling between multiple applications, enabling tasks like screen scraping, extracting data from an email invoice and inputting it into a bookkeeping system, and many more.
Understanding RPA In Accounting Automation
The Rise of Robotic Process Automation:
RPA, or digital robots or bots, comprises programmable software that utilizes advanced computer-dependent tools to automate repetitive and rule-based tasks. These bots can handle various activities, such as data entry, reconciliations, and financial reporting. RPA's adoption is rising across industries, with accounting experiencing notable transformation. For enterprises seeking to leverage the potential of RPA, DWP Global Corp stands out as the
Best RPA Implementation Partner
, providing expertise and support to optimize workflow.
Streamlining Accounting Automation:
Accounting departments have traditionally been burdened with mundane, time-consuming, and error-prone tasks. Robotic Process Automation in accounting offers a powerful solution by automating redundant accounting tasks, allowing accountants to focus on value-added activities that require human expertise. By leveraging RPA, businesses can achieve seamless automated processes, enhance client assistance service, and ensure financial workflow.
Enhancing Financial Reporting and Audit Quality:
The accuracy and timeliness of financial statements are critical for business decision-making and regulatory compliance. RPA can enable historical accounting audits, ensuring that financial records are easily accessible and auditable. Moreover, by reducing manual intervention, RPA helps maintain consistent audit trails, enhancing overall audit quality. Accounting automation handles repetitive and time-consuming tasks, allowing accountants to focus on more strategic and critical activities in the accounting domain.
Enabling Regulatory Compliance:
Adhering to ever-evolving regulatory standards is paramount for businesses to avoid penalties and maintain credibility. RPA plays a vital role in ensuring enhanced regulatory compliance by automating processes that involve compliance checks and validations. Implementing robotic process automation is prudent to minimize non-compliance risk and increase compliance-related activities' efficiency.
Optimizing Accounting Processes:
Through the implementation of robotic process automation, the entire accounting reconciliation process can be optimized. With the assistance of software robots, the finance team can simplify complicated ledger files, accurately record and track financial transactions, automate redundant accounting tasks, and facilitate accounting reconciliations with exceptional precision. This results in heightened efficiency and productivity for finance teams, leading to faster financial transactions and more streamlined accounting.
Leveraging Global and Enterprise Benchmarks:
In today's business landscape, global and enterprise benchmarks are crucial in performance evaluation and identifying improvement areas. RPA efficiently collects, processes, and analyzes vast data, enabling businesses to benchmark accounting acts and practices against industry best standards, uncovering growth opportunities. As a reputable
Kofax Implementation Partner in the USA
, we specialize in seamlessly integrating Kofax solutions, driving operational efficiency, and optimizing operational processes.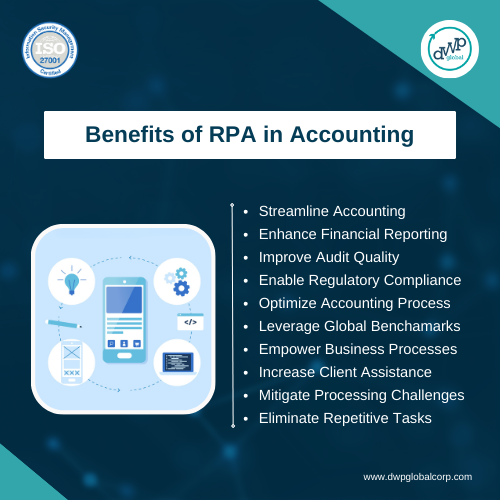 Empowering Business Processes with RPA:
RPA empowers businesses to overlays existing procedures with cutting-edge software technology, making it easier to adapt to changes in business requirements. By integrating RPA seamlessly, businesses can embrace agile financial planning, easily accommodating the complexities of the modern business domain. For a reliable
Kofax RPA Tool Installation partner
, trust DWP Global Corp to accomplish your goals.
Increasing Client Assistance and Satisfaction:
RPA facilitates high-quality client service by reducing the time taking financial tasks and improving accuracy in financial reports. Automated processes enable businesses to respond promptly to inquiries, ensuring exceptional service and enhancing client satisfaction and loyalty.
Mitigating Invoice Processing Challenges:
Invoice processing has traditionally been a time-consuming and error-prone task, leading to delays in payment and dissatisfied stakeholders. RPA can assist in invoice processing challenges by automating the end-to-end invoice handling process, ensuring faster processing times and increased accuracy.
Eliminating Repetitive Manual Tasks:
Robotic Process Automation
in accounting eliminates the need to reproduce manual keyboarding and data entry tasks, which are time-consuming and susceptible to human errors. By entrusting these tasks to the automated process, accounting professionals can redirect their focus toward strategic and intricate activities, resulting in heightened productivity and job satisfaction.
Why Do Enterprises Need Accounting Automation With RPA?
Robotic Process Automation in Accounting is essential for enterprises aiming to transform their financial processes and maintain a competitive edge in the business landscape. Our team of
Certified RPA developers
is equipped with the expertise to deliver exceptional automation solutions that align with your specific business requirements. By leveraging RPA, businesses can enjoy a multitude of benefits, including:
Efficiency: RPA streamlines repetitive tasks, boosting productivity and freeing up human resources for more strategic activities.
Accuracy: Automation reduces human errors, ensuring reliable and precise financial data.
Scalability: RPA can handle large volumes of data as enterprise-scale businesses.
Real-time Insights: Access to real-time financial data facilitates agile decision-making.
Cost Savings: Automation reduces manual labor costs and minimizes expenses related to error correction.
Compliance: RPA ensures consistent adherence to financial regulations, minimizing compliance risks.
Audit Trail: Detailed logs simplify revenue audits and enhance transparency.
Flexibility: RPA allows quick process reconfiguration to adapt to changing business needs.
Data Security: RPA strengthens data protection with robust security protocols.
Competitive Advantage: Embracing automation boosts efficiency and compliance, giving enterprises a competitive edge.
Businesses implementing robotic process automation in accounting gain a competitive edge by automating repetitive tasks, improving financial records, ensuring compliance, and optimizing accounting processes. RPA allows financial accounts to focus on higher-value activities, boosting efficiency and enhancing client service. Understanding and implementing RPA in accounting is essential for sustainable growth and success in the digital age.