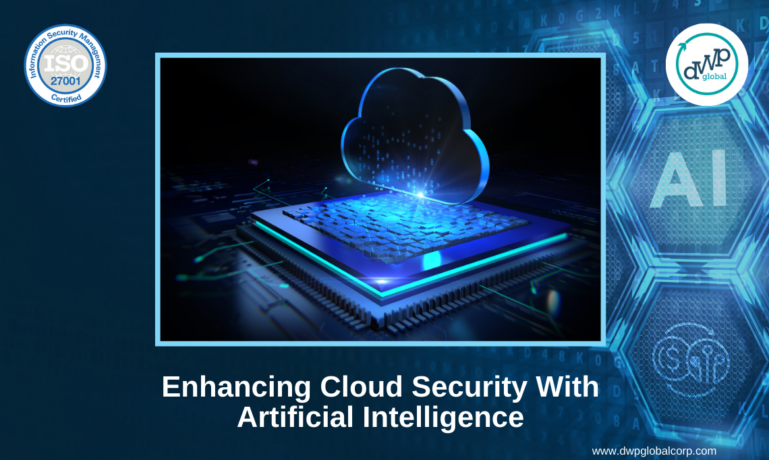 Given the expanding digital landscape and increased reliance on cloud computing services, Artificial Intelligence (AI) has become crucial in enhancing cloud security. However, integrating AI into cloud security is a complex mechanism that requires careful consideration of various factors, a deep understanding of AI's role in improving security, and compliance with privacy regulations.
This article delves into the important aspects of implementing AI in cloud security, explores considerations before deployment, discusses the benefits and drawbacks of AI, and addresses privacy concerns.
Considerations Before Implementing AI in Cloud Security
Before embarking on the implementation of AI in cloud security, several factors need to be carefully evaluated:
1. Organization Size:
The organization's size plays a crucial role in determining the feasibility of
AI adoption
. Larger organizations with abundant resources may find implementing AI security solutions easier than smaller businesses with limited budgets.
2. Business Needs: Assessing whether AI-powered cloud security aligns with the organization's specific requirements is essential. Improving existing technology infrastructures may be sufficient without AI.
3. Security Considerations: While AI can enhance security, it also introduces new challenges. AI systems can evolve and learn autonomously, making detecting abnormal behavior or potential security breaches challenging, and requires a comprehensive strategy for securing AI.
4. GDPR Compliance: Organizations must ensure that their AI systems adhere to data protection regulations like GDPR (General Data Protection Regulation), which governs and limits the use of personal data. Balancing AI's data-hungry nature with privacy regulations is a significant consideration.
How AI Improves Cloud Security
In the era of big data, the digital landscape has made it difficult for human brains to protect and observe the cloud-based ecosystem. As the
cloud infrastructure
expands, vulnerabilities have multiplied, leading to several cyberattacks. Although, there is a promising and effective solution on the horizon. Artificial Intelligence and Machine Learning have entered to fight the security challenges beyond human capabilities. Let us understand how AI strengthens cloud security in several ways:
1. Automated Systems: AI automates threat detection and event monitoring, relieving security professionals from routine tasks and allowing them to focus on important issues. AI can make precise decisions and reduce human errors by filtering out irrelevant noise and allowing human security teams to focus on concentrated and targeted problems. AI relieves a lot of workload for security teams and helps them focus on other issues.
With complex neural network technologies and advancements, AI surpasses human actions and reduces errors through precise decision-making capabilities.
2. Predictive Analytics:
AI utilizes predictive analytics to identify potential threats and vulnerabilities by analyzing historical data and detecting anomalies in network traffic. This proactive approach helps organizations prepare for future attacks. In a cloud computing environment, predictive analytics improves user activity monitoring and spots unusual events that may lead to malicious uses. By harnessing predictive analytics, companies can improve their capabilities to detect and respond to cyberattacks. As this technology expands, the need and demand for improved cloud solutions that leverage these services also grow exponentially.
Cloud solutions and services
are essential for modern businesses, providing scalable and cost-effective IT infrastructure.
3. Data Management: AI, particularly through Natural Language Processing (NLP), helps manage vast amounts of unstructured data. It can extract meaningful trends and insights, enhancing cloud security by processing and understanding data. Cloud users and providers can leverage Natural Language Processing (NLP) to refine cloud security through processing and discovering valuable trends from data. ML applications, such as reinforcement learning, strengthen cloud security platforms and make them resilient by learning from data.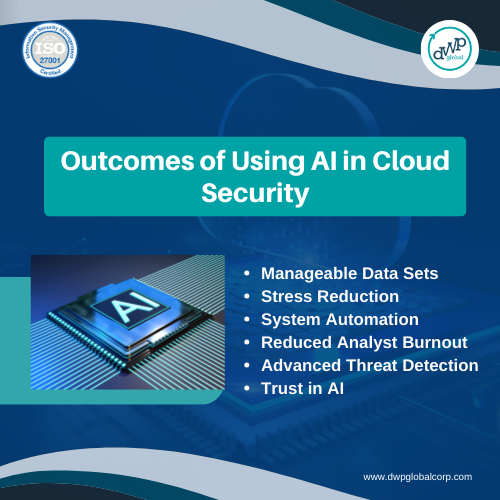 Outcomes of Using AI in Cloud Security
Implementing AI in cloud security yields several outcomes:
1. Manageable Data Sets: AI enables organizations to sift through and analyze extensive data sets, making identifying security threats and patterns easier.
2. Stress Reduction: By automating security processes, AI reduces stress on human analysts, leading to fewer mistakes and more efficient operations.
3. System Automation: AI minimizes repetitive tasks, freeing up human resources for more critical security concerns.
4. Reduced Analyst Burnout: AI reduces the workload on security analysts, preventing burnout and ensuring consistent performance.
5. Advanced Threat Detection: AI can detect advanced persistent threats and operate unsupervised in controlled environments, enhancing overall security.
6. Trust in AI: As AI implementation matures, organizations can trust AI to handle entire security situations that once required human intervention.
These outcomes have contributed to decreased data compromises, making the future of AI in cloud security promising. Artificial Intelligence services are revolutionizing industries by automating tasks, improving decision-making, and unlocking new business possibilities.
Privacy Concerns with AI Implementation
While AI enhances security, it also raises privacy concerns:
1. Data Collection: AI's data-hungry nature can lead to collecting sensitive personal data, potentially violating privacy regulations.
2. Security Risks: AI systems can be vulnerable to security events, and hackers can exploit AI's predictive capabilities to locate desired information quickly.
3. AI Vulnerabilities: AI security systems can be tricked by sophisticated attackers, introducing new vulnerabilities.
4. GDPR Compliance: GDPR, which requires explicit consent and data deletion upon request, can pose challenges for AI systems that collect and process extensive data.
Following GDPR, traditional cloud computing systems can be a suitable solution. These traditional cloud computing systems store only necessary data in stable environments managed by cloud providers, allowing companies to inform clients regarding data usage and gain explicit consent.
Traditional cloud systems locate and manually delete data upon client request. As such, systems already utilize automated technologies for
data analysis
, making extracting information and patterns from unstructured data simple.
In conclusion, integrating AI into cloud security is crucial in protecting digital assets and data in an increasingly complex and interconnected world. However, organizations must consider various factors, including size, business needs, and compliance with privacy regulations, before implementing AI security solutions.
AI brings significant benefits, such as automation, predictive analytics, and improved data management, contributing to more robust cloud security. It enables organizations to handle vast data sets efficiently, reduce stress on security teams, and enhance threat detection capabilities.
Nonetheless, privacy concerns and potential vulnerabilities associated with AI must not be overlooked. Data collection, security risks, AI vulnerabilities, and GDPR compliance challenges require careful attention and mitigation strategies.
While AI holds great promise for the future of cloud security, it should be viewed as one component of a diversified security strategy. Human expertise, security analysts, and traditional security measures continue to play essential roles in safeguarding organizations from evolving threats.
In summary, the successful implementation of AI in cloud security requires a balanced approach that leverages AI's strengths while addressing its limitations and ensuring compliance with privacy regulations. By carefully considering these factors, organizations can harness the power of AI to bolster their cloud security and adapt to the ever-changing digital landscape.