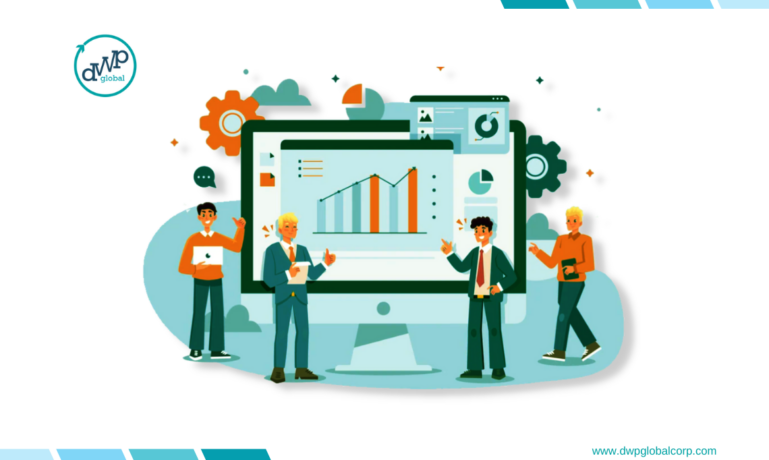 Every sector, including healthcare, finance, retail, and manufacturing, can benefit from big data. Today, technology has developed into an unstoppable force that can mold any firm, and the manufacturing sector is no exception.
Although manufacturing still plays a significant part in the global economy, its importance has changed significantly between developed and developing nations. With big data analytics tools and data warehousing principles, manufacturers can unearth the most recent data and spot trends that help them improve operations, increase supply chain effectiveness, and pinpoint factors that affect production.
Top executives in manufacturing organizations are aware of the process' importance. According to a KRC research report, 67% of manufacturing executives considered investing in data analytics to save costs in this volatile industry, especially under pressure. Let's explore how big data analytics enhances and modernizes manufacturing operations to understand its effects better.
Gaining Access To Assets That Improve Performance And Productivity
Performance improvements can result in significant productivity improvements even if they affect the margins because manufacturing profits wearily depend on optimizing the value of assets. Similarly to this, fewer asset failures can lessen inefficiencies and stop losses. These factors drive manufacturers to prioritize maintenance and constantly enhance asset performance.
Manufacturers can use predictive analytics and big data to drive predictive maintenance and enable historical data analysis. Manufacturers can avoid unplanned downtime and costly equipment breakdowns as a result.
Establishing Practical Product Customization
Manufacturing has historically concentrated on mass production while allowing businesses catering to specific markets to customize their products. Because it would take more time and effort to cater to a smaller group of customers, customization was previously not practical. By making it possible to predict customer demand for personalized items accurately, big data analytics is evolving. Big data analytics can help producers generate customized products virtually as effectively as commodities sold at a larger scale by detecting changes in customer behavior.
Tools that let product engineers gather, evaluate, and visualize client feedback in almost real-time are examples of innovative skills. Big data analytics gives manufacturers the resources they need to delve deeply into processes, allowing them to identify points in the production cycle where they can successfully integrate customized processes using in-house resources or postpone production to allow partners to carry out customization before the manufacturing process is complete.
Expanding Production Processes And Supply Chains
Manufacturing procedures and supply networks are intricate and complex in today's constantly changing, interconnected world. The capacity to examine each process step and link in the supply chain in rough detail is essential to maintaining efforts to modernize processes and optimize supply networks. This capability is offered to manufacturers via big data analytics.
With the correct analytics, producers can closely examine each step of the production process and keep a close eye on the supply chain, taking into account each activity and task. Producers can spot bottlenecks and expose underperforming parts and procedures. Big Data Analytics also reveals dependencies, allowing producers to improve manufacturing procedures and create alternate strategies to address probable hazards.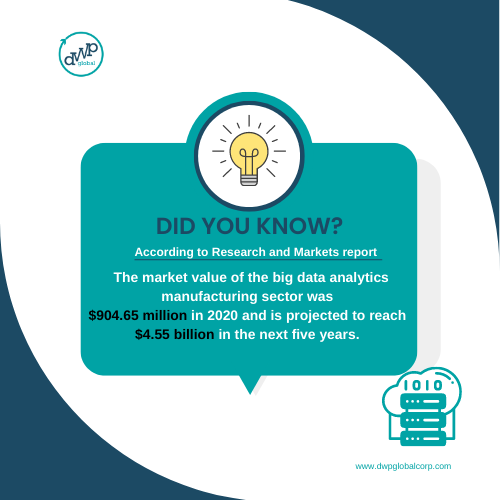 Big Data Solutions: Big Data Analytics Tools
Did you know: According to Research and Markets report – The market value of the big data analytics manufacturing sector was $904.65 million in 2020 and is projected to reach $4.55 billion in the next five years.
Check out some excellent big data solutions manufacturers are adopting to improve production processes, maximize asset performance, and reduce product customization. An overview of essential big data analytics tools is provided below:
A software architecture called Apache Hadoop is used for managing large amounts of data and centralized file systems. Through the use of the MapReduce programming model, it handles large datasets. Multiple operating systems are supported by the open-source Hadoop framework, which is based on Java.
CDH (Cloudera Distribution for Hadoop) emphasizes using that technology in enterprise-class deployments. It features a free platform distribution that includes Apache Hadoop, Apache Spark, Apache Impala, and numerous other open-source components. Organizations can collect, analyze, organize, redistribute, discover, model, and trade an infinite amount of data.
The open-source program known as KNIME, or Konstanz Information Miner, is used for enterprise reporting, integration, analysis, customer relationship management (CRM), data analytics, and business intelligence. Operating systems for Linux, OS X, and Windows are supported.
A platform for combining, processing, and providing data for cloud analytics is called Xplenty. It gathers data from all of your sources. You can implement ETL and ELT solutions with their built-in graphic interface. A comprehensive toolkit with no-code and low-code features for creating data pipelines is called Xplenty.
Tableau is a business intelligence and analytics software program that offers a wide range of integrated tools to help users visualize and understand their data. Tableau offers real-time customizable dashboards and is adept at managing various data quantities. It is also user-friendly for both technical and non-technical customers.
Talend is a big data open studio accessible under an open-source, free license. And the platform offers a subscription-based license based on users. Because it is a real-time big data platform, the license depends on the number of users. IoT, Spark streaming, and machine learning are some of its connectors and parts.
A cross-platform program called Rapidminer enables a combined environment for data sciences, predictive analytics, and machine learning. It is available under several licenses, including small, medium, and largely recognized editions, and a free edition that supports one logical processor with up to 10,000 data rows.
How Can DWP Global Help You?
DWP Global can assist manufacturing businesses through big data, data warehousing, and business intelligence services to run more smoothly, produce better goods, cut waste, and conserve energy. However, industry stakeholders should exercise caution before hopping on the big data bandwagon without conducting adequate study and testing. Start with a small project using big data analytics, evaluate the results, and then gradually expand to larger initiatives.
At DWP Global, we address data processing effortlessly so you can concentrate on your core skills. Data formatting has never been more accurate, thanks to our efficient representation of data and speedy data processing. One of our strong suits is reducing the cost of data processing by reducing the strain on the infrastructure and overheads. Get in touch with us for effective services that will transform your business!