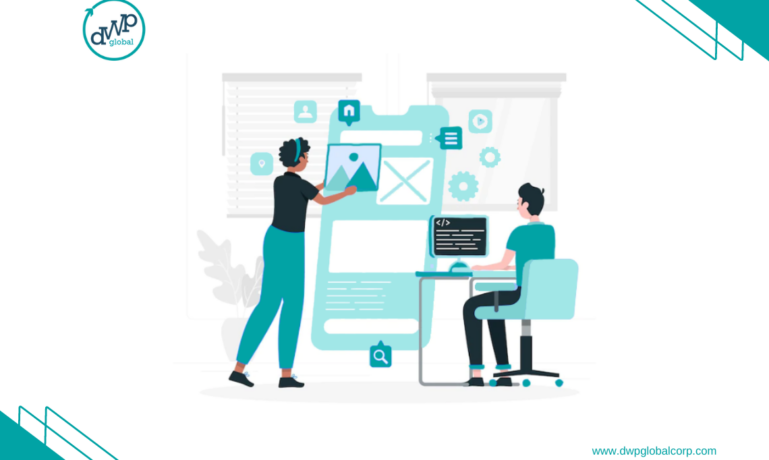 Why does your new PC run on Windows 11 instead of the Windows 95 operating system? The obvious reason is the computer you have now is more effective and sophisticated than the one you had ten years ago. Similarly, your company is not what it was when you started it. So, managing it with outdated technologies and software is like using your new ZenBook with Windows 95.
Over the past two years, several lockdowns have forced businesses to switch to digital transformation. Since you don't know your next business needs, every system today needs to work with the most recent software and modern technology. And all of these adjustments call for Legacy System Modernization.
Did you know the best example of legacy modernization is IT transformation?
What is Legacy Application Modernization?
Legacy Application Modernization is the practice of upgrading a legacy system with outdated software to work with modern computing approaches, such as new frameworks, languages, and infrastructure platforms to support future digital endeavors.
Why Modernize Your Legacy Systems?
It's time to replace the legacy system when they cannot interface with modern solutions due to the legacy technology. Through legacy apps modernization:
Businesses can keep up with the most recent technological advancements
Provide new development opportunities while saving money
Improve security risk mitigation
The system adapts to new features
Maximize existing business processes
Enhanced productivity
Better customer and stakeholder experience
Increased ROI
Generate more revenue
Remain competitive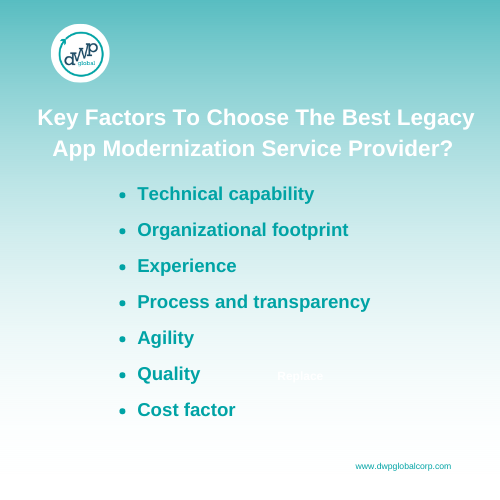 How Do You Modernize Legacy Applications?
Modernization doesn't necessarily call for a total overhaul of your IT infrastructure. But it does call for an honest evaluation of the areas where digital transformation is required.
For this, define the use case first. Determine what needs to be modernized after analyzing your company's requirements, then put a modernization strategy together and carry it out, such as the following:
Modernize data through app modernization strategy: With the data modernization approach, you can move both structured and unstructured data from out-of-date or remote databases to modern cloud-based databases. It enables improved data security in a cloud environment.
Migrating to new architecture: The legacy modernization process enables you to shift to a new and more sophisticated architecture with a high-performing application, thereby decreasing hosting and infrastructure maintenance expenditures.
A shift from the monolith to microservices: With microservices, you may divide your application into several more manageable and connected services. The main benefit of adopting microservices is that you may work on one module without interfering with others, guaranteeing reduced downtime and maximum operational capacity.
Adopt cloud infrastructure: The cloud is, without a doubt, the main location for application migration initiatives nowadays. So, application modernization is one of the many digital transformation activities that cloud technologies can assist and power.
Key Factors To Choose The Best Legacy App Modernization Service Provider?
Technical capability: When selecting an app modernization service provider, make sure they have a committed team of modernization professionals who are not only technically sound but also capable of enhancing your company's capabilities with unique and tailored solutions.
Organizational footprint: Have a thorough awareness of the organizational structure, capability landscape, infrastructure, strategy, and engagement models of your service partner, as it is thought that the sum of all these elements influences an organization's success.
Experience: Would you want an untrained service provider to handle your legacy app modernization project? So, it is crucial to go for the best legacy upgrade partners and assess your service provider's track record of successful legacy migrations.
Process and transparency: Ensure your app modernization service provider has a clear plan for the entire legacy modernization project. The main elements of this plan should be the policies and procedures for risk management, support, change management, and class development.
Agility: It is essential that your service provider adjust to changes promptly, without impeding other activities and the existing system, and gets over unexpected bottlenecks.
Quality: A successful legacy modernization will undoubtedly depend on several elements, one of which is quality. To guarantee the caliber of their output, a perfect service partner should specify a set of methods and rules.
Cost factor: The adage "better the quality, higher the costs" is untrue. So, to cut overhead expenses and boost profitability, it's also essential that your modernization partner has a transparent costing strategy.
How Can DWP Global Corp Assist Its Clients In Legacy Application Modernization?
DWP Global Corp assists organizations looking for robust app modernization solutions. We support organizations by giving their outdated systems a fresh lease on life by enhancing operational effectiveness and corporate agility. Your re-engineered solution will be developed, deployed, configured, and launched quickly with the aid of our modernization experts and legacy modernization services. If you're looking for application modernization services, get in touch with our experts.