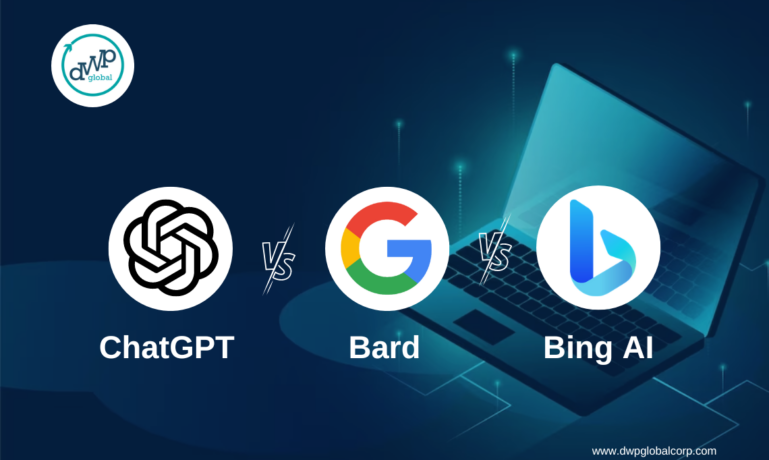 Artificial intelligence has been incredibly popular recently in a wide range of industries. One of the most popular areas where AI is used is in search engines, where consumers use AI-powered tools to search for information, answer questions, and obtain personalized suggestions. Today, three of the most popular AI technologies are ChatGPT, Bing, and Google Bard, each with its own strengths and capabilities.
ChatGPT, Bing, and Google Bard utilize advanced AI language models to produce language resembling human speech. These chat generative pre-trained transformer models have undergone extensive training on vast text datasets, enabling them to provide contextually appropriate responses to various queries and conversations. They are employed in diverse fields, including customer service, content management system, language translation, and personal assistance.
With so many new advancements, keeping up can take much work. Microsoft is adding GPT-4 to Bing, OpenAI is integrating Bing with ChatGPT, and Bard is working on PaLM 2 (Pathways Language Model). With all these options, deciding which AI chatbot best suits your needs can be overwhelming. Seeking the assistance of an
artificial intelligence solution provider
always reduces the burden of choosing the right bot.
Now let's examine the three AI models which can aid you in making a wise choice.
ChatGPT or Chat Generative Pre-trained Transformer
ChatGPT is a sophisticated language model created by OpenAI that can produce text similar to a human's response to a prompt. It is an advanced tool that understands natural language and can perform tasks like language translation and answering questions. It is an exceptional resource for those who enjoy creative writing.
The training data for ChatGPT comes from a sizable corpus of online content. Tokenization, which separates text into distinct tokens such as words or punctuation marks, is used to preprocess the training data.
Users can access ChatGPT using a web-based interface, which is especially beneficial for jobs requiring natural language processing, like customer service, technical assistance, and personal assistants.
However, ChatGPT has several drawbacks. While it can answer questions on various subjects, its solutions might not always be as precise as those offered by a search engine like Bing. Furthermore, ChatGPT may struggle with more complex or technical queries because its solutions depend on pre-existing data rather than real-time search results.
Microsoft developed the Bing AI search engine, which utilizes the latest technology of ChatGPT-4.
Bing trains its model using both supervised and unsupervised learning methods. In the supervised learning approach, the model is trained using labeled data, such as user queries and search results. The unsupervised learning strategy entails identifying features and patterns from a text input to help the model better understand the semantics and context of a search query.
Besides its core search function, Bing can assist with AI tools and other tasks, including weather updates, news articles and alerts, and sports scores. Additionally, it enables users to search data and conduct image and video searches with customizable filters for more refined results.
However, there are significant distinctions between Bing and ChatGPT. For instance, Microsoft Bing AI has access to the entire internet, whereas ChatGPT only has access to the data it was trained on.
The technology used by the Google search engine for Bard is distinct and expands upon LaMDA (language model for dialogue applications). However, a few users have reported that it is less advanced than other competing technologies. The Google search intends to improve Bard to rival Microsoft and OpenAI. Bard can respond to queries, condense information, and create content based on prompts. It is linked to the internet and Google's search database.
Bard is a great tool for those who want to learn about various topics. It can summarize information from the internet and provide links to relevant websites for users to explore in more detail. Although Bard's AI is trained in human dialogues and conversations, it also utilizes search data to provide real-time information. Still, it is observed that Bard can sometimes generate responses with factual errors.
Choosing the most appropriate one is important, depending on the task.
Artificial intelligence service providers
will break down the key differences and assist in choosing the right bot among the AI chatbots.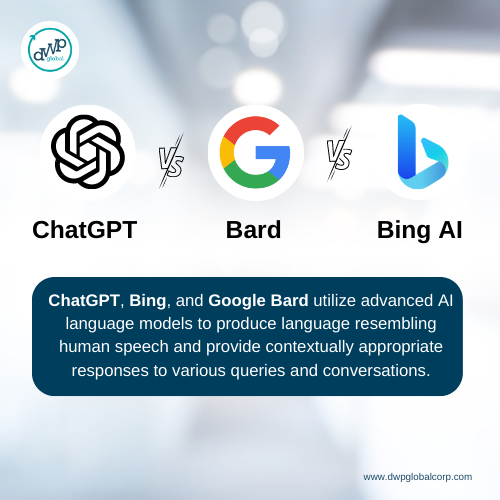 Which AI Chatbot Gives The Best Answers?
AI language models differ from regular software as they are not deterministic systems. Instead, they operate probabilistically, utilizing statistical regularities in their training data to generate responses. Consequently, posing the same question to the AI language model twice may yield different answers. Furthermore, how a question is phrased can impact the resulting response of an AI language model or large language model.
While Bing and ChatGPT use GPT-4 technology, Bing also can generate images. On the other hand, Bard utilizes Google's LaMDA model and provides shorter responses. It's worth noting that Bard's shorter response may not be as reliable as the other two options. Furthermore, ChatGPT and Bing may generate different responses to the same question as they prioritize creating unique responses.
If you need help with verbal tasks such as creating content as creative writing or inductive reasoning, you might find ChatGPT useful, especially GPT-4. On the other hand, if you need a chatbot to assist you in finding information and answering questions online, Bing could be a good option. Lastly, try Bard if you're confident in shorting Google's stock or real-time data and want to verify your decision.
ChatGPT vs. Bing AI vs. Bard: Accuracy of Responses
Since its launch, ChatGPT has garnered over 100 million users. However, controversy has concerned its potential to replace human workers to answer questions and complete schoolwork. ChatGPT, while improved, has imperfections that can still result in misinformation and incorrect answers.
If you're looking for a generative AI with internet access, Bing's chat function is a great option. It presents search results in a conversational format with an AI chatbot powered by GPT-4. While the visual features are a plus, responding to the query's intent may take longer than other options. Overall, Bing Chat is a solid alternative to ChatGPT.
Google Bard is your go-to option if you're looking for a speedy and dependable chatbot. Its response time is quicker than both Bing and ChatGPT's free versions. Additionally, Google Bard is upgrading to PaLM 2, expanding its language support to over 200 languages, and improving its coding, debugging, and math abilities. While ChatGPT supports more than 80 languages, Google Bard's upcoming upgrades make it a top contender in the chatbot space.
DWP Global Corp Assistance For AI Chatbots
At DWP Global Corp, we utilize our vast expertise in transformation, industry knowledge, process acceleration, and partner and proprietary technologies to help you develop a comprehensive plan and the necessary tools and expertise to effectively implement trusted AI throughout your organization. At DWP Global Corp, experts strive to create reliable, ethical, and transparent AI solutions. Their team designs cutting-edge AI models seamlessly integrating with your existing business framework.