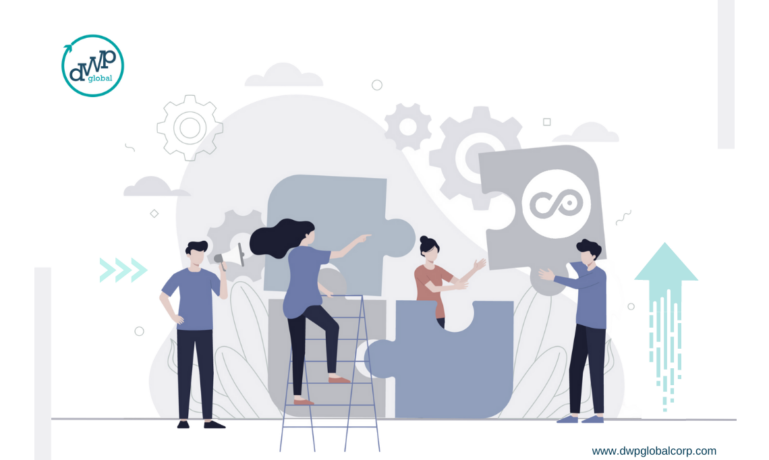 COPADO is a cloud-based platform designed for Salesforce DevOps and release management. It enables businesses to centrally manage and automate their Salesforce development, testing, and deployment processes.
Users can manage their entire
DevOps lifecycle with COPADO
, which includes source control, continuous integration, testing, and deployment. Version control, conflict resolution, automated testing, and governance are also included, allowing businesses to streamline their companies' development processes and quickly release high-quality applications.
What Is DevOps Visibility?
The capability of an organization to understand its software development processes and operations through various tools and practices is referred to as DevOps visibility. It includes version control, pipeline management, and organizational culture, improving software quality and shortening the release cycle.
How To Integrate Salesforce?
Business processes often must adapt and grow while optimizing resources that involve a digital transformation, such as implementing Salesforce. This platform offers rich functionality and can be configured to support various business functions.
Salesforce can improve workplace environments, streamline business processes, and maximize ROI (Return On Investment). However, leveraging its capabilities requires expertise and a deep understanding of the platform.
For most businesses, partnering with a
COPADO salesforce partner
is essential to maximize their investment in Salesforce and realize its full potential. By working with an implementation partner, organizations can ensure that they use the right tools and strategies to achieve their goals and reap the benefits of the Salesforce platform.
Common Challenges Faced Across Organizations
Inefficient business processes result from outdated technology or a lack of technology support.
Limited real-time visibility into workflows and projects.
Inability to meet deadlines efficiently and immediate demands due to manual processes and time-consuming functions.
Large and complex data-cleansing and data-loading needs are yet to be addressed.
High costs associated with maintaining and upgrading on-premise custom software, resulting in an inability to realize fiscal efficiency.
A failed CRM deployment is causing doubt about the business value of the service cloud.
A legacy system that needs to be updated and worth upgrading.
Time-consuming HR recruiting, applicant tracking, and employee onboarding processes.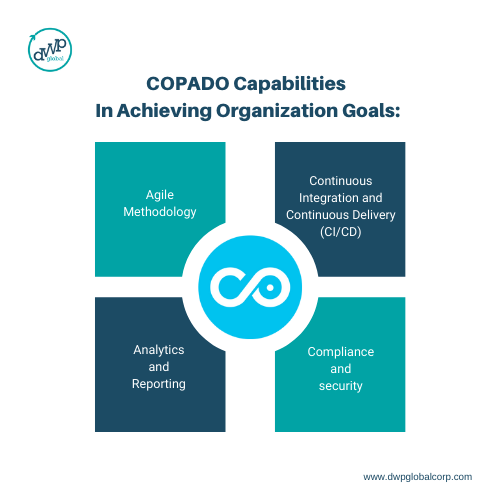 COPADO Capabilities In Achieving Organization Goals
COPADO value stream management tools assist them in ensuring that these projects are completed on time. Some of its features include the following-
Agile Methodology: COPADO offers agile planning capabilities that enable teams to plan and manage their projects using new capabilities. It allows teams to prioritize their work, track progress, and make changes to plans as needed to meet changing requirements.
Continuous Integration and Continuous Delivery (CI/CD): COPADO provides automated CI/CD pipelines that allow teams to build, test, and deploy Salesforce applications quickly. This service allows businesses to release new features and improvements more frequently, reducing time-to-market and increasing customer satisfaction. 
Analytics and Reporting: COPADO provides companies with analytics and reporting services that allow organizations to track key performance indicators (KPIs) and measure progress toward their company's goal.
Compliance and security: COPADO provides built-in compliance and security controls that ensure that Salesforce applications are developed and released securely and compliant. These help organizations avoid costly implementation and data breaches.
Choosing The Right Salesforce Implementation Partner
Expertise in Salesforce: Their experts should understand Salesforce's portfolio and help design sales workflows and Salesforce CRM implementation. They must ensure they can achieve the best results for their salesforce customers.
Iterative approach: Their Salesforce teams must be trained to use an agile framework focusing on technology and salesforce ROI to increase revenue. They must also deliver customized solutions that meet the client's unique needs and adapt to changing business requirements over time.
Strategic front-end planning: They must provide their customers with front-end strategic planning for future use cases and provide value stream management, which helps to accelerate time and solution marketing. Their collaborative approach must ensure that they understand their customers' needs and can provide solutions tailored to their specific demands.
Provide value stream management:
They must offer a comprehensive one-stop-shop solution for
Salesforce implementation services
. They must understand the challenges of working with multiple vendors and provide front-end strategic planning, customized solutions, and ongoing support to ensure a successful implementation. Also, their employees must be trained to provide tailored solutions to their unique business needs and provide ongoing support to ensure optimal system function.
Cost-effective solutions: They must provide cost-effective long-term solutions through low- or no-code tools approaches. They should utilize standard functionality wherever possible for codeless custom functionality that integrates with future Salesforce updates. This approach ensures that the solutions are easy to maintain, and hence client's employees can maximize their return on investment.
A
market study
states, "The global partner relationship management (PRM) market had a value of USD 54.82 billion in 2020, projected to grow at a CAGR of 16.2% from 2021 to 2028."
Your Preferred IT Partner, DWP Global Corp, Is A Click Away
DWP Global Corp can be your
ideal COPADO salesforce partner
for all instances and data requirements. We specialize in various on-demand technologies, such as marketing cloud, salesforce clouds, and custom code solutions.
At DWP Global, we understand that technology alone cannot solve all your problems. That's why we combine our expertise in Salesforce with a personalized, collaborative approach to deliver customized solutions that meet your unique needs.
We strive to be more than a vendor; we seek to be a trusted partner invested in your success. So whether you're looking to modernize and improve your business processes or enhance the customer experience, DWP Global is the partner you can count on to help you achieve your goals.
So, make your business skyrocket by integrating a functional salesforce system with additional improvements, including business process automation involving data analysis & reporting. Furthermore, we have a specialized team with rich experience in technology to collaborate processes aligning with your administrative access and growth.
Ideally, You name it; We have it!
Contact us
today.