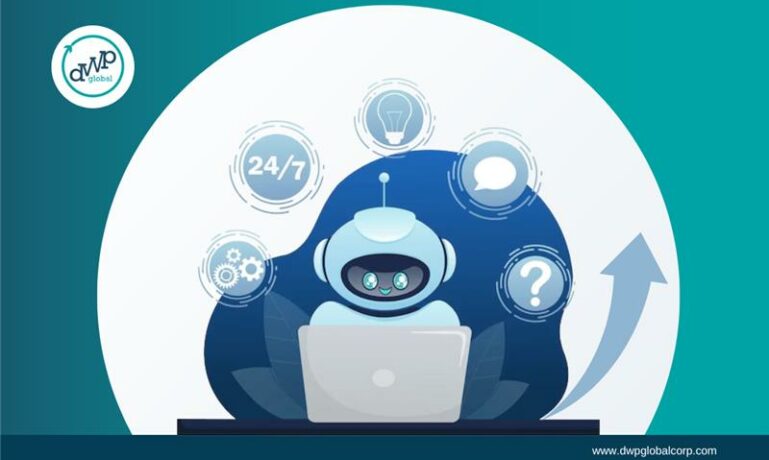 In today's fast-paced digitally-driven world, organizations are constantly seeking innovative ways to enhance productivity and efficiency within their teams. The advent of artificial intelligence (AI) and Machine Learning tools have provided organizations with powerful resources to streamline their operations and boost productivity.
One such AI tool is ChatGPT, an advanced large language model developed by OpenAI. ChatGPT can significantly improve team productivity with its natural language processing capabilities, especially in content writing assignments.
Outsourcing mundane tasks can be a game-changer for boosting your productivity. We can harness the power of these AI bots to delegate repetitive or time-consuming activities that may act as a trusted professional or personal assistant. This, in turn, frees up our valuable time and energy for more important and strategic tasks. DWP Global Corp stands at the forefront of delivering exceptional
cloud solutions and services
to boost productivity.
Developed by OpenAI, ChatGPT is an expansive language model. It utilizes deep learning techniques to process and generate human-like text based on the inputs.
The prototype of ChatGPT
, launched in November 2022, garnered attention for its extensive and knowledgeable responses. However, it was criticized for occasionally providing inaccurate information. Following its release, OpenAI's valuation reached an estimated $29 billion in 2023, stimulating competition and driving the rapid development of Google chatbot (Bard) and Meta AI's LLaMA foundation model.
Key features and capabilities: ChatGPT can comprehend and conversationally generate text, augmenting user communication and facilitating decision-making processes. The model can analyze the context of a conversation and provide relevant responses based on previous inputs.
ChatGPT can assist in completing sentences, helping content writers overcome writer's block. Using ChatGPT can facilitate translation between different languages, aiding in multilingual generate content ideas to enhance communication. It also generates creative and coherent content for blog post, social media content, and product descriptions.
Training and development process: To develop ChatGPT, OpenAI used a two-step process. First, a language model called GPT (Generative Pre-trained Transformer) was trained on a large corpus of publicly available text from the internet. After pre-training, the GPT model was further refined through a process called fine-tuning. This involved training the model on a specific dataset that was carefully generated with the help of human reviewers. The combination of pre-training and fine-tuning enables ChatGPT to engage in interactive and dynamic conversations, providing valuable assistance across various applications.
Limitations and considerations: ChatGPT may sometimes generate factually incorrect or misleading responses, as it relies on patterns in the training data and may not have access to the latest information. The model's responses are highly dependent on the input it receives. For instance, minor changes in phrasing or context can result in significantly different outputs.
The language model can inadvertently exhibit discriminatory behavior due to biases present in the training data. Efforts are made to mitigate this, but some biases may persist. Increasing the use of ChatGPT can generate inappropriate or offensive responses, as it learns from internet text that may contain biased or objectionable material.
At DWP Global Corp, we embrace the power of our proven delivery methodologies to boost your productivity that propel your business endeavors with the foremost
Top Cloud Solution Providers.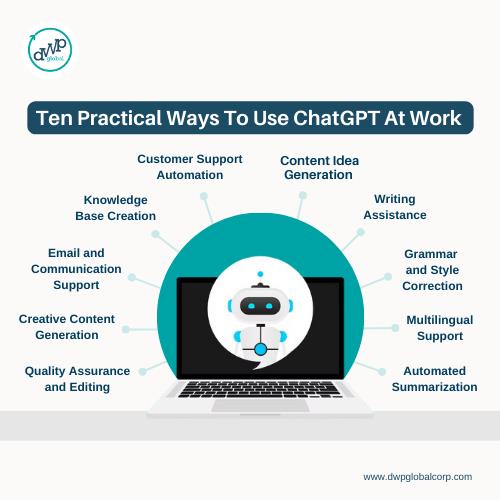 Ten Practical Ways To Use ChatGPT At Work
Content Idea Generation: To brainstorm and generate creative ideas for blog posts, articles, social media campaigns, and more.
Writing Assistance: Get real-time writing assistance to provide suggestions, sentence completions, and creative input to improve the quality and efficiency of your writing.
Grammar and Style Correction: Use ChatGPT to identify and correct grammar, punctuation, and style errors in your written content, ensuring a polished and professional final product.
Multilingual Support: Utilize its language translation capabilities to translate content between different languages, allowing you to reach a broader audience and create localized versions of your content.
Automated Summarization: To generate concise summaries of lengthy documents or articles in less time and provide quick insights into complex information.
Customer Support Automation: Implement ChatGPT in your customer support workflows to handle basic inquiries, provide instant responses, and free up your team's instances for more complex customer issues.
Knowledge Base Creation: Train ChatGPT on your organization's knowledge base to create an intelligent self-service system, allowing employees and customers to access information quickly and efficiently.
Email and Communication Support: Use ChatGPT to write emails and assist in responding to inquiries, and other communication, helping to improve the clarity, tone, and overall effectiveness of your written correspondence.
Creative Content Generation: Leverage creativity to generate engaging content such as slogans, taglines, product descriptions, or social media captions that resonate with your target audience.
Quality Assurance and Editing: Employ it as an additional layer of quality assurance to review and edit content, ensuring consistency, coherence, and adherence to brand guidelines before publishing or sharing.
Implementing ChatGPT In Team Workflow
Identifying Use Cases: Before implementing ChatGPT in the team workflow, it is important to determine specific scenarios where ChatGPT can add value to your team's workflow. It could be assisting with research, generating content, providing quick information, or supporting customer interactions for increased productivity.
Integration and customization options: ChatGPT can be integrated into the team's workflow using various methods. It may involve utilizing APIs or customizing the model to meet specific requirements. You can ensure effective stream management by seeking assistance from the finest customized Web Application Development Services, leading to continuous improvement and innovation.
Training the language model for specific requirements: To enhance ChatGPT's performance and adapt it to the team's needs, it may be necessary to fine-tune the model on specific datasets related to the industry or domain. Training the model on relevant data can improve its accuracy and effectiveness in generating content tailored to the team's requirements.
Establishing guidelines and best practices for AI utilization: Clear guidelines and best practices should be established for the team members to utilize ChatGPT effectively. It includes defining the scope of AI's involvement, specifying the tasks where it can provide value, and determining when human input is necessary. Guidelines should also cover the responsible use of AI tools, avoiding biased or inappropriate content generation.
Ensuring data privacy and security: When implementing ChatGPT in the team workflow, it is essential to prioritize data privacy and security. Data encryption, access controls, and compliance with relevant regulations should be considered to safeguard data integrity.
Monitoring and optimizing AI performance: Continuous monitoring of ChatGPT's performance is crucial to ensure its effectiveness in improving team activities. Metrics should be established to evaluate the quality and efficiency of AI-generated content.
Managing human-AI collaboration: Successful integration of ChatGPT in the team workflow requires effective management of human-AI collaboration. Team members should understand the role of AI as a tool to augment their work rather than as their replacement.
AI tools like ChatGPT can significantly enhance team productivity and efficiency. By leveraging the advanced capabilities of ChatGPT, businesses can streamline content creation processes, improve content quality, and drive better results. Organizations can empower their teams to achieve higher productivity and success in the digital age.
As a
Data Integration Service Provider
, DWP Global Corp lets you stay abreast with the latest technologies. Our application development team delivers state-of-the-art solutions tailored to your business requirements.