How Robotic Process Automation Brings Efficiency To Business Processes?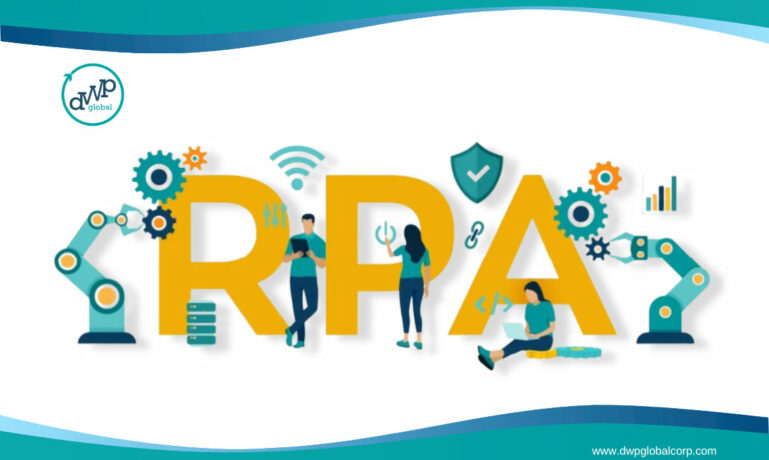 Meta Description- RPA is an automation technology that works on software robots. Please read this article to know how Kofax Kapow brings efficiency to business processes.
Introduction
Over decades computers have lessened the burden of human tasks by simplifying several processes and bringing efficiency to day-to-day work. A step further to the evolution of technology is RPA, Robotic Process Automation. Even repetitive and mundane computer tasks can be automated using RPA technology. Artificial intelligence and RPA implementation through software bots manage complicated, time-consuming tasks such as repetitive tasks, triggering responses, process automation, transaction process, and interacting with other digital systems.
The million-dollar question is, how do we bring RPA into our business? DWP Global can be your answer; they are the best RPA implementation partner that implements Kofax in your business. Kofax is an RPA tool that automates labor-intense and multi-step tasks with no coding requirement.
Benefits Of Implementing RPA Technology
Robotic process automation is an automation process that makes the organization flexible, profitable, and responsive. It helps to enhance employee satisfaction and productivity by deleting mundane tasks from day-to-day workflow processes.
Kofax is an Intelligent automation platform that accelerates and develops automation software for business processes to achieve desired organizational goals. Implementing Kofax helps enhance productivity and efficiency so that employees can concentrate more on qualitative work by automating their routine tasks. Let us look into a few benefits of implementing RPA.
Greater productivity- Software robots bring change in productivity by accelerating workflows. They enable huge amounts of work to be done by executing processes independently. Automation brings a drastic change in data-driven industries like finance, insurance, the public sector, etc.
Enhances accuracy- As automation involves less human interference, the chances of human errors are reduced dramatically. Bots' reliability helps achieve complex rules and strict compliance standards without human touch and with greater accuracy.
Cost savings and faster ROI- RPA plays a very important role in saving costs. Embrace RPA solution reduces the expenditure, helps reach the business's cost objectives, and results in higher ROI than manual data entry.
Improves business data security- Data breach is a common management issue that directly impacts operations. If the team strictly follows RPA benchmarks, the risk of data breaches can be controlled.
Customer experience- Robotic process automation bots lessen the customer service executives' workload by performing the system and data entry work. This helps reduce the call handling time and improves customer experience by 50%.
Kofax Kapow RPA Platform
Kofax is an intelligent automation software provider that digitally transforms information-intensive processes. Kofax Kapow 10.3 is a robotic process automation software that is the quickest, most cost-effective, and easiest way to create software-intelligent robots that can manage your manual-driven processes with little to no coding. Listed below are the key benefits of Kofax Kapow:
It helps you easily build, deploy, manage and automate software-based robots
It uses artificial intelligence (AI) and machine learning
Communicate with multiple systems deployed within the organizations
Without dependencies on API
No expensive integrations are needed
No compromise to the security
Kapow 10.3 uses market-leading capture and RPA technologies and leverages artificial intelligence and machine learning to automate human and information-intensive processes. They build smarter robots in support of an organization's digital transformation objectives.
Intelligent screen automation services support Citrix-based applications and similar remote desktop environments. Kapow develops a faster robot by learning application images and identifying user interface (UI) elements.
An enhanced and embedded browser engine supports rapid robot development and deployment and handles more complex automation requirements that access browser-based systems and websites.
Expanded support for attended robots is designed for automating the service desk, help desk, and other call center activities.
Businesses Where RPA Can Be Used
Kapow automation capabilities have remarkably improved the performance of BPO providers and shared service centers worldwide. They have shown proven results in operational efficiency, responsiveness, and cost savings, and the same can be leveraged across a wide range of sectors mentioned below:
Insurance
Banking
Logistics
Manufacturing
Retail
Government and other vertical markets
Conclusion
The RPA market has a long way to go, with its benefits being numerous. DWP Global can be your perfect implementation partner for Kofax RPA implementation, as they understand the client companies' automation needs and thoroughly provides support and maintenance services throughout the automation journey.
Kofax Kapow RPA Services @ DWP Global.
Robot design and deployment
Professional services
Content / ECM migration services
Support services
DWP global also creates core competencies in data management, application development, legacy upgrade, cloud, compliance, and analytics solutions. DWP global aims to provide its clients with services and helps them to achieve their respective strategic and operational objectives within budget.